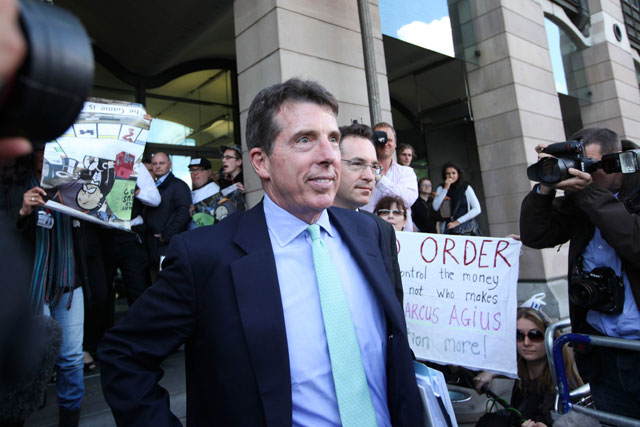 When Barclays last week opted to pull all its advertising in the wake of the Libor rate-fixing scandal, it became the latest brand in a crisis to adopt a vow of silence. Any ad campaign extolling the virtues of Barclays as the trusted bank with which to 'take one small step' would have only risked fuelling animosity toward the brand.
'Until it becomes clear exactly what the crisis is, and how the public at large responds, it's best to keep a low profile,' advises Phil Rumbol, founding partner of creative agency 101 and the former Cadbury marketing director who presided over the brand during the salmonella scare in 2006 that led to the recall of 1m chocolate bars (see below). 'The worst thing you can do is give the impression of a faceless organisation carrying on regardless. It's important to allow an appropriate passage of time to ensure the brand isn't seen as insensitive or self-interested. Then, when the negative sentiment has largely subsided, you can [re-start your marketing],' he adds.
Long-term planning
With the stories about Barclays going from bad to worse, careful handling of the corporate reputation of the 276-year-old banking brand will be critical to ensure it can rid itself – at least in the long term – of toxicity in the eyes of consumers. While the marketing department should take no blame for the crisis, it is the marketers, in collaboration with the communications team, who find themselves thrust to the forefront of managing the public face of the brand.
Pulling ads is one option, but only as part of a wider plan of action, which should already be drawn up along with clear lines of authority, according to Emma Harris, a consultant and former Eurostar sales and marketing director who worked at the train operator during the 'fire and ice' crises in 2008 and 2009 (see above).
Eurostar became a case study in how to use social media during a crisis when snow affected the service again last year. 'One thing we found was that having a fairly informal tone, in social media especially, made a difference,' explains Harris. 'Using first names and responding personally, rather than as the voice of a corporation, tended to soften reactions. Brands should also consider the integration of all channels, and make sure the web is consistent with social media, customer services and the contact centre.'
Careful timing
How long will it be before Barclays returns to advertising? Getting the timing right, as well as the tone of voice, will be vital. 'Marketers who stay close to their consumers via polling, qualitative research or tracking online sentiment will know when the time is right,' says Harris. 'Consumers are pretty fickle and, thankfully, have short memories. My recommendation would always be to re-enter in a confident yet understated way.'
Barclays can rely on banking inertia, but rebuilding consumer trust will need to be central to its marketing from now on.
DIARY: 'RETAIN PERSPECTIVE'
Phil Rumbol Founding partner of 101 and former marketing director, Cadbury
I was just six weeks into my role as Cadbury marketing director when I received the news of a salmonella contamination. Within hours I found myself on a conference call with the chief executive and a crisis-management team.
The crisis procedure didn't really outline what my role was, beyond being prepared to place recall ads at short notice.
As I sat and listened to the crisis unfurling I decided my role was to be the conscience of the consumer. This may sound obvious, but faced with such a crisis, it's very easy to develop a bunker mentality. I suggested we suspend all advertising, including our long-running sponsorship of Coronation Street, and set up focus groups for the next day.
Attending these groups was
illuminating. Consumers were dismissing the media coverage as alarmist and proactively defending the integrity of Cadbury. While in no way being complacent, this told me it was important to retain perspective. We therefore avoided doing or saying anything inappropriate, but equally didn't lurch into any reactive counter-PR. Instead we focused all our efforts on co-operating with the authorities.
Once the crisis passed, rather than diving straight into a PR charm offensive, we focused on displacing the negative sentiment with some decidedly 'in-character' positivity - in the shape of a drumming gorilla.
Clearly the damage done by a crisis depends on how it's handled. But it also depends on the underlying goodwill (or not) toward the brand, and whether the aberration is out of character or simply confirms a prejudice.
DIARY: 'CONTROL THE MESSAGE'
Emma Harris Consultant and former sales and marketing director, Eurostar
I've spent a lot of time reflecting on the crises at Eurostar and sharing the lessons with marketers in the hope that they don't make the same mistakes that we made.
In 2008, there was fire in the tunnel that shut down services in the immediate days and limited the operation for some months. We immediately cancelled all advertising and started planning a major campaign, to launch once the tunnel had fully reopened, that didn't refer directly to the crisis but was about communicating business as usual. Generally we were able to control most of the messaging and the polling told us that we had done little damage to our reputation.
Just over a year later, the snow
crisis was a different story - mainly because the surge in social media meant we were up against always-on consumers who were communicating before we had a chance to, and, being so close to Christmas, their response was incredibly emotional.
The effect was devastating as, without an established process for communication that could handle the speed of response needed, we came across as unresponsive, uncaring and incompetent.
Furthermore, our social media platform was set up for marketing purposes only, so we were communicating crisis messaging from a marketing platform - totally inappropriate. We cancelled all planned ads and placed full pages in the broadsheets issuing an apology and promising an inquiry.
EXPERT ADVICE
Adrian Warr Corporate reputation specialist and partner at Portland, which works with Barclays, McDonald's and Coca-Cola, among others
In spite of all your preparation, the unforeseeable has occurred. Your carefully built brand is under attack. What do you do?
Don't panic. A crisis can go from Facebook to Fleet Street to Westminster before you have had your morning coffee, and when it does, the threat can seem insurmountable. But if perfection were a prerequisite of success, there wouldn't be many brands left. You can and will survive.
Trust your communications team. You understand the brand, but they know the forces attacking it and can help you protect it better than anyone.
Gather information. Learn everything you need to know about the issue at hand before you start reacting to it.
Map all your audiences and how they are likely to respond. Your tendency will be to focus on the consumer, but they may not always be your priority.
Take stock of your activity. Work out what marketing needs to be pulled. But also look at what could be used - it isn't all just PR. Your channels, too, can be useful.
Be adaptable. With rolling news and online media, the nature of the story can change by the minute. Be ready to change with it.
Be as open and transparent as possible. With all that's going on within the business, don't forget to listen to the outside world and be open with your customers.
Let time heal. Watch the media and public mood and plan a careful return to activity. Let the dust settle.
Show that you've learned. There's no point apologising unless you substantively address what went wrong. People will forgive a mistake if you've changed.
Additional reporting by Loulla-Mae Eleftheriou-Smith and John Reynolds