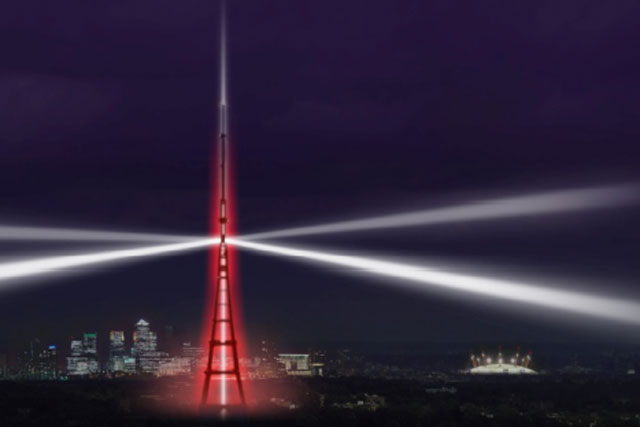 The display, which will be visible across London, will illuminate the 219-metre-tall structure and use more than 200,000 watts – 7.5bn candlepower – the same wattage used to light the Eiffel Tower in Paris.
A beam of light representing the invisible digital TV signals will shoot up the tower and radiate out over London.
Arqiva is installing more than six tonnes of lighting equipment on the tower in readiness for the lightshow at 9.15pm on 18 April.
In addition to the public lighting display, Arqiva is hosting a special VIP event at the foot of the tower to mark the switchover. The event, hosted by Chris Evans, will feature a rare appearance from Sir David Attenborough, who is celebrating his 60th year in broadcasting and will talk about the evolution of broadcasting during his lifetime.
John Cresswell, chief executive officer of Arqiva, said: "DSO is a huge team achievement, working with our Freeview partners, alongside Digital UK and Ofcom. At completion in October, it will have involved more than 1,200 man-years of effort and the construction of five new TV masts, one the height of 70 double-decker buses.
"In only five years, we have transformed this vital public service into a modern platform that is delivering the best of British TV into over 20 million homes across the UK, and meeting the evolving TV viewing needs of the UK population."
In 2006, the BBC and Arqiva signed a £1.8bn contract for the design, deployment and operation of its new high-power digital terrestrial television network, which will replace both the BBC's analogue television networks and the current low-power DTT network.
Sir David Attenborough, broadcaster and naturalist, said "Thanks to public service broadcasting, for the past 75 years we could all take part in the most memorable moments in the UK's history. Now, with the switch to digital TV, we're celebrating the start of a new, very exciting time in UK broadcasting, when viewers will have more channels to choose from and a better viewing experience than ever before."
Chris Evans, TV presenter and BBC Radio 2 DJ, said that the switchover to digital TV represented a momentous step for the broadcast industry, and lighting up the Crystal Palace transmitter was "a fitting tribute to the success of public service broadcasting over the last 75 years."
The switchover project, which covers around 98% of the UK population, has taken five years and has cost an estimated £630m.
While the digital switchover for TV has been fairly smooth, the switchover for radio has caused some controversy and is not expected to take place until at least 2015.
Developments of the London Switch Over night celebrations can be followed via FaceBook (www.facebook.com/switchovernight ) and Twitter (@switchovernight).
Arqiva is also offering two people the chance to win a memorable helicopter flight across London and the Crystal Palace site, by entering its competition on Twitter.
Follow Nick Batten on @NickBatten2