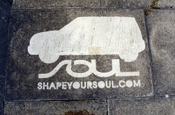 The work involves Kia messages and art being spray cleaned into 750 dirty pavement sites across five major UK cities; London, Manchester, Leeds, Bristol and Birmingham.

Each ad is spray cleaned using only natural rainwater and directs pedestrians to a microsite, shapeyoursoul.com.

The executions are being placed in the dirtiest footfall areas in each city and last for two to three weeks before fading.