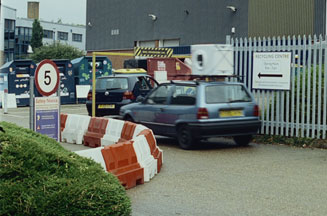 Electrical retail group DSGi is behaving a bit like London buses - you wait an eternity for a new brand strategy, and then two come along at once.
Hot on the heels of repositioning PC World with a high-profile ad campaign, the company has announced a shift to a humour-based strategy for Currys.
It will aim to communicate that Currys can make choosing and using electrical goods enjoyable, and is being led by the brand's sponsorship of The Simpsons on Sky1.
Historically, DSGi's portfolio of retail outlets was more segmented. PC World was the destination for all things computer-related, Currys was for white goods and Dixons for electrical home-entertainment devices.
Dixons' high-street stores have since been rebranded as Currys.digital, although the brand survives as an online and travel-point retailer.
The recent strategic developments are part of DSGi's wider Renewal and Transformation Plan, announced in May 2008, which aims to focus on value, choice and service.
With the impending arrival of US electrical retailer Best Buy, which plans to open dozens of big-box stores across the UK, DSGi's timing could hardly be better.
The changes are much-needed. In recent years, the lines have become ever-more blurred between the group's brands, with Currys.digital offering many of the same products on the high street that PC World sells in its out-of-town retail-park stores.
Katie Bickerstaffe, director of HR, marketing and property at DSGi, does not see the overlap between the group's retail brands as a problem - rather, an opportunity for it to grow market share and broaden its appeal.
'PC World is a computer specialist, the place to go for computing. However, as the computer becomes more central to home entertainment, PC World is expanding its range to offer customers the very best products and advice on connectivity in those areas which are linked to, and driven by, the PC, such as TVs, cameras, home cinema, home audio and so on,' she says.
'While TVs and home entertainment are at the core of the Currys range, it is also a destination store for white goods, kitchen and personal electrical appliances, as well as photography, audio and gaming,' adds Bickerstaffe.
Matt Piner, retail analyst at Verdict Research, disagrees with her prognosis, and believes that the overlapping of brands and a lack of clarity is an issue. 'The segmentation for DSGi needs to be clearer to the consumer and there is a danger that DSGi cannibalises its own sales because of this,' he says. 'PC World's campaign is going down the right line, but it is facing a losing battle. I think the approach is probably on the wrong brand. It should be focusing on why Currys is a specialist.'
However, Bickerstaffe argues that the segmentation is clear. 'Both PC World and Currys have mass appeal, partic-ularly with families and those seeking quality brands. PC World additionally serves the needs of more technology-savvy consumers and small-business customers,' she says.
DSGi does not only have Best Buy to worry about. Later this year, John Lewis will trial a store format focused on the home, including electrical goods. Well-known for its customer service, the retailer will be seen as a threat to DSGi.
'It's a really tough market, but our electrical sales are up year on year,' says Craig Inglis, John Lewis' head of brand communications. 'Good service is ingrained in our culture, which gives us a big advantage in the market.'
All technology retailers face the daunting task of continually training staff to ensure they are up to speed with advances in the market and can pass this knowledge onto the consumer.
DSGi has spent the past year retrain-ing its staff, but Piner believes this may be too little, too late. 'Both John Lewis and Best Buy have an excellent reputation for handling customers and will be a serious threat to DSGi,' he says.
Savvy consumers now scour the internet for the best prices on electrical goods, whether they buy online or from a bricks-and-mortar store. DSGi has an online presence for all its brands, as well as Pixmania, a pan-European e-tailer of digital photographic and consumer electronic goods; but with its sites all selling similar products, consumer confusion may arise.
However, Bickerstaffe insists that Dixons can compete well with the other internet-only players and provide consumers with a wide choice of the latest technology at a competitive price.
With its brand strategy overhaul, DSGi is clearly preparing for a battle. Whether this is enough to stave off the big bucks and reputations of its incoming rivals is open to question.