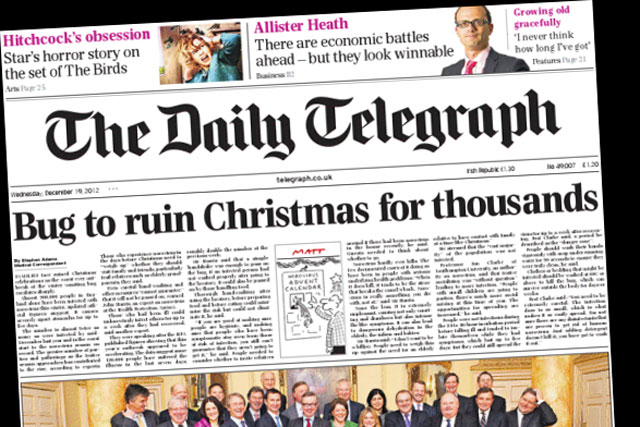 The National Readership Survey Print and Digital Data (NRS PADD) gives a breakdown of daily UK reading habits of national print and digital newspapers. The data covers the period October 2011 to September 2012.
The figures reveal that The Daily Telegraph won out in the quality sector, with an average daily readership of 1.89 million.
This was split between 1.39 million print readers and 552,000 digital readers. The number discounts duplication across the two brands.
The result should prove pleasant reading for executives at The Daily Telegraph, which, while it has a higher UK circulation than its rivals, does not have the international reach of The Guardian website.
Second-placed in the quality sector, according to NRS, is The Guardian, which has an overall daily readership figure of 1.58 million. This is split between 1.06 million print readers and 595,000 digital readers, minus the duplication.
Third-place in the quality sector goes to The Times, with a combined readership of 1.34 million. This is split between 1.31 million print readers and 35,000 daily visitors, minus duplication, to The Times website, which is behind a paywall.
The Independent is fourth-placed, with a combined readership of 664,000, split between 506,000 print readers and 162,000 daily visitors to the Independent's website, minus duplication.