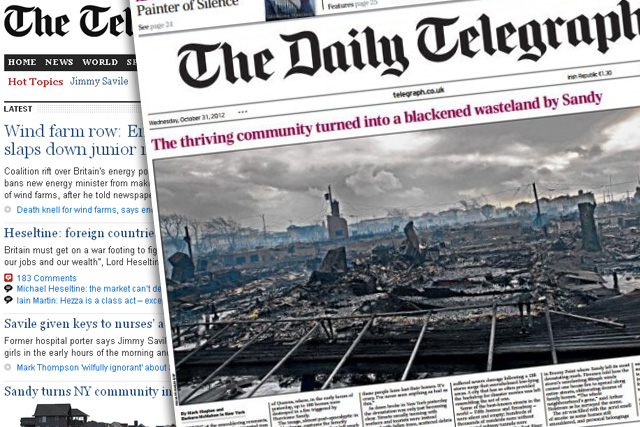 Dave King, managing director of The Daily Telegraph, said: "We hold great store by the daily NRS figure as we think it is the true measure of newspaper reading habits."
The National Readership Survey Print and Digital Data (NRS PADD) gives a breakdown of daily UK reading habits of national print and digital newspapers. Today's data covers the period July 2011 to June 2012.
The figures reveal that The Daily Telegraph won out in the quality sector with an overall daily readership of 1.92 million, which, when the duplication between digital and print readers was taken out, equated to 1.87 million.
This was split between 1.38 million print readers and 536,000 digital readers.
The data should prove pleasing reading for executives at The Daily Telegraph, which while it has a higher UK circulation than its rivals, does not have the internationally reach of The Guardian's website.
Second-placed in the quality sector, according to NRS, is The Guardian which has overall daily readership figures of 1.59 million. This is split between 1.07 million print readers and 581,000 digital readers in the UK.
Third-placed in the quality sector is The Times with a combined readership of 1.33 million, split between 1.3 million print readers and 29,000 daily visitors to The Time website, which is behind a paywall.
The Independent is fourth-placed with a combined readership of 720,000 – split between 532,000 print readers and 188,000 daily visitors to the Independent's website.
Print
Website
Net Print +
Website
Total (Net)
Print Title(s)
Website(s)
000s
000s
000s
Quality
Financial Times
ft.com
300
58
357
The Daily Telegraph
telegraph.co.uk
1384
536
1874
The Daily Telegraph/
The Sunday Telegraph
telegraph.co.uk
1478
536
1966
The Guardian
guardian.co.uk
1078
581
1590
The Guardian/
The Observer
guardian.co.uk
1165
581
1674
The Independent
independent.co.uk
532
188
714
The Independent/
The Independent
on Sunday
independent.co.uk
568
188
750
The Independent/
The Independent
on Sunday/i
independent.co.uk
1080
188
1258
The Times
thetimes.co.uk
1302
29
1329
The Times/
The Sunday
Times
thetimes.co.uk/
thesundaytimes.
co.uk
1569
43
1607
Mid-market
Daily Express
express.co.uk
1303
38
1341
Daily Express/
Sunday Express
express.co.uk
1425
38
1462
Daily Mail
dailymail.co.uk
4385
956
5194
Daily Mail/The
Mail on Sunday
dailymail.co.uk/
mailonsunday.
co.uk
4673
963
5482
Popular
Daily Mirror
mirror.co.uk
3178
142
3311
Daily Mirror/
Sunday Mirror
mirror.co.uk
3451
142
3583
Daily Mirror/
Sunday Mirror/
The People
mirror.co.uk/
people.co.uk
3582
146
3718
Daily Record
dailyrecord.co.uk
846
42
886
Daily Record/
Sunday Mail
dailyrecord.co.uk
896
42
936
Daily Star
dailystar.co.uk
1436
19
1454
Daily Star/
Daily Star
Sunday
dailystar.co.uk
1502
19
1520
The People
people.co.uk
232
4
236
The Sun
thesun.co.uk/
thescottishsun.
co.uk
7244
311
7479
Follow @johnreynolds10