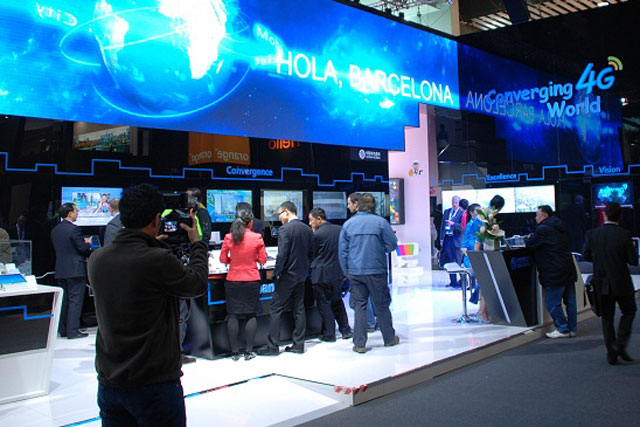 Rumour has it that pedometers were given out at the entrance, and those who travelled the most miles in a day were awarded with a prize. In short, the sheer scale of it is pretty overwhelming.
More mobile disruption
If cameras, watches, maps, diaries, mp3 players, sat navs and, would you believe it, compact mirrors weren't enough – the next big thing being completely disrupted by mobile is language translation. Both Lexifone with its automated phone interpreter, and the Japanese operator NTT Docomo with its speech conversion technology, were examples of how having to learn the basics of a new language might be a thing of the past.
Firefox
Arguably the talk of Congress from day one, with a stand in hall eight so busy I had couldn't even get in to it. Lots of a buzz and excitement around a new mobile operating system, but equally lots of questions asking, 'do we really need another'?

The operating system is very Android-esque and as Mozilla has admitted, was built in just a year – so unlikely that I saw the finished, polished article today.
Still, it makes for a more interesting battle in the operating system stakes, with Firefox's ambition surely to become number three behind Apple and Android. Microsoft and Blackberry will no doubt want to stake their claim on the very same place too.
i'm Watch
With all the latest talk around Apple releasing the iWatch, set to come out at some point this year, I was absolutely amazed to stumble across the "i'm Watch" stand, with claims to be the world's first real smartwatch.
I'm Watch has its own operating system and app store, and is available in seven colours. It looks half like a Casio TV remote control watch from the 90s and half like something Ironman athletes wear while running 200 miles of undulating terrain.
Relatively smart though, but always going to be an addition to your smartphone instead of replacing it completely. And the killer blow – it won't sync with anything you already own.
Given Apple's penchant for a patent war, I've no doubt i'm Watch has already appeared in its crosshairs.
Security
Just like connectivity and battery life, security is another fundamental stumbling block for the rise and rise of mobile marketing.
Luckily, Kaspersky is on hand with its on device protection product; Switzerland-based Biometry can authenticate your identity by using a mobile screen as a fingerprint and facial recognition device and Verji Lock makes it almost impossible to get access to someone's locked smartphone – even if you have learnt their password off by heart.