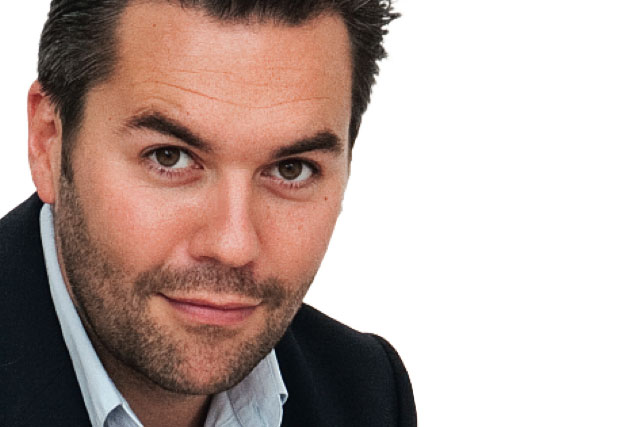 Nils Leonard has more than 15 years' experience working with some of the most successful agencies in London. He joined Grey in 2007 and became executive creative director in 2010.
Describe yourself in 140 characters or less Terrified of a missed opportunity. Grateful for a handful of incredible experiences. A person with some energy trying to make some exciting things happen in an industry that has never ?had more going for it.
What is the best thing about working in advertising? At its best, our industry isn't making ads, its creating popular culture, and that's the stuff people really talk about, the stuff that matters.
Where and how do you get your best ideas? Never at my desk. By being around talented, collaborative people and staying open to the brilliant things happening in the world. Red wine helps.
What is your greatest media achievement and why? I'm proud of the agency Grey London has become in three years, of its culture and the talent we foster. Our best piece of work is The Angina Monologues. A sell-out comedy night in the West End's Theatre Royal, Haymarket, that became Christmas Day programming, educating women as to the dangers of heart disease. It is the first 'ad' to ever ?win a British Comedy Award.
What do you think will ?be the biggest change in advertising in the next five years? Gaming is exciting, and going to have a huge impact on our industry and others as it grows. The biggest change in the next five years, though, will be the skill sets and variety of talent that agencies will count on. Other industries and technologies will cease to exist in silos and agencies will have to create flexible, fluid cultures with more than one way of doing things to succeed creatively.
Is age important when it comes to making friends and contacts? No. It's all about energy.
Is the demographic dead? It should be. There are more relevant, connected and powerful ways to get excited about
The soundtrack to my life
MASSIVE ATTACK Unfinished Sympathy
CRAIG ARMSTRONG FT. EVAN DANDO Wake Up in New York
PHAROAHE MONCH Simon Says
DEFTONES Shut Up and Drive
BAAUER Harlem Shake
audiences these days.
What do you owe the 'new 40s and 50s'? The 'new 40s and 50s' have never been more open to the world. They are the most affluent and hungry they have ever been, and it's their buck our industry ought to be chasing. Our industry owes them what they're looking for. ?We should be crafting world firsts, making entertaining and rewarding experiences in return for their time. We should be opening their world up, quenching their renewed thirst for experience.
Are you a breakfast or a drivetime person, and why? Breakfast. It's the start. The part of the day where you want to take the world in, connect, get excited.
What is your earliest radio memory? Getting a shout-out on a jungle pirate radio station. For a brief second, I was important in a world most people didn't know existed.
What's the best thing about radio as a medium? It can still be niche. That's rare, and that's great. It can be focused. Elitist. Like all the best things in life, it can just ?be for one sort of person – and people ?love that.
It can be personal, and take its time. Radio can still have a clear opinion.
People wear stations like badges on their sleeve. That doesn't happen in the television industry.
What's your favourite radio advertising campaign, and why? Despite the potential of radio, its advertisers don't innovate enough. It's hard to find examples of the sort of work I wish existed in this brilliant medium. For the usual stuff, I love the Dos Equis work from the US. ?Well- written, irreverent – they do ?radio comedy so well, we take it all ?a bit seriously over here.
What does Smooth mean to you? I never turn on the radio looking for it, ?but it is hard to move on from once it's hooked you. Smooth for me always manages to play music you ?forgot you loved.