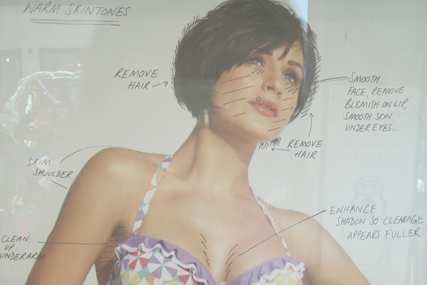 The campaign will trial in the Oxford Street store, where shop workers will ask the public what they think of the move, before it is rolled out across the country.
Alongside a natural photograph, there will be one where the model has been touched up, with markings showing where the waist, shoulder, legs and arms have been skimmed and the breasts have been enhanced.

Next to the photographs, a sign in the window will read: 'We've not messed with natural beauty; this image is unairbrushed. What do you think?'

A spokesman for the store said it believes that overuse of some digital photography techniques to create unrealistic body shapes and flawless skin could make women feel more insecure about their natural looks and size.

Mark Woods, director of creative and visual at Debenhams, said: "As a responsible retailer, we want to help customers make the most of their beauty, without bombarding them with unattainable body images."

He added: "Our campaign is all about making women feel good about themselves – not eroding their self-belief and esteem by using false comparisons. As a rule, we only airbrush minor things like pigmentation or stray hair, and rely on the natural beauty of models to make our product look great."

The move has been welcomed by campaigners. Jo Swinson, Liberal Democrat MP and co-founder of the Campaign for Body Confidence, said: "More and more people are realising that airbrushing is not necessary in order for women to look beautiful."

In February, Debenhams used Shannon Murray, a disabled model, to launch its new range by Ben de Lisi and, in January, the store ran a trial with size 16 models in its windows.