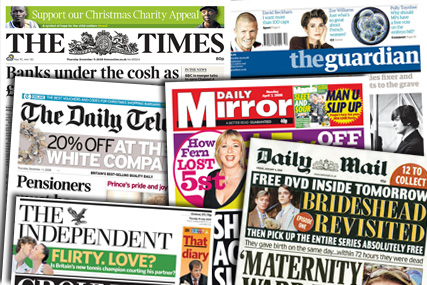 The alarmist forecast comes from the business specialist and financial adviser Deloitte, in a report entitled 'Stop the presses: print in peril'.

Declining advertising revenues, increasing costs, and a dismal economy may all combine to deliver a devastating blow to print media in 2009, according to predictions.

The industry outlook is said to have gone from "difficult to almost impossible", with ad revenues expected to drop 20%, led by a 30% fall in the classified sector and supplemented by 10 drops in subscriptions.

The report also notes that titles that have gone online are "not even getting close" to replacing the decline in revenue generated by print advertising and subscriptions.

Those working within the print media are urged to take a hard look at the reasons why — including an analysis of their sales force incentive structure, as well as the difference between print and online readers.

The report warns: "While the most recent tendency for publishers has been to favour advertising, not subscription, for online content, they may need to reconsider; the ad-supported model does not appear to be working."

Alternatively, the report offers publishers the controversial suggestion of "significantly reducing" their online activity, in an attempt to drive people back to the physical product.

To support the stance, Deloitte points to the press market in Japan, which has always restricted its online presence, and where titles have suffered lower declines in readership and advertising than its North American and European peers.

Some hope is offered for the industry by way of consolidation and expansion in developing markets, although even this is considered "unlikely to restore historic levels of profitability".

Instead, the report advises on the re-education of shareholders and lenders about return expectations that no longer offer 20% margins.

The report concludes that severe cost-cutting measures are in order, suggesting union renegotiations, forced savings from suppliers and reductions in print frequency, adding: "The press is likely to have had a hard year in 2009, but the bottom line is the public needs quality editorial, particularly during turbulent times."