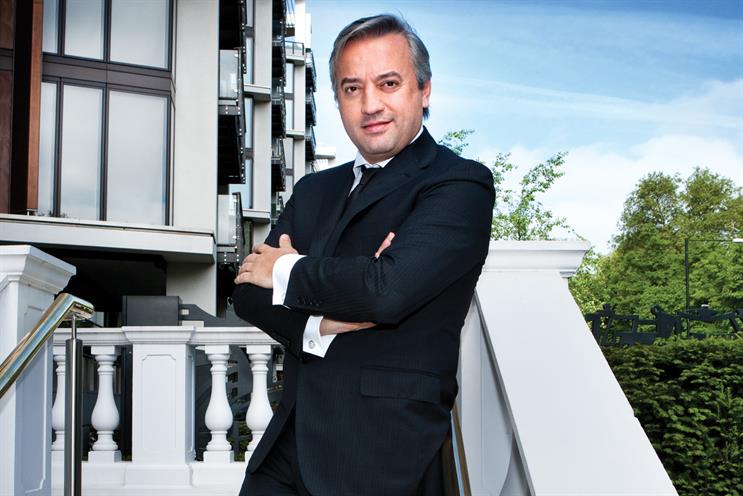 Dominique Delport is remarkably zen for someone recently elevated to global managing director of Havas Media Group. Since the start of the year, the journalist turned entrepreneur has been responsible for 7,000 people working across 126 markets, but he's taking it all in his stride.
"It's just advertising," he says. "No-one dies."
Among his secrets to staying on top of his game is an ability to "sleep like a Labrador" – he confesses, four hours a night is said to be plenty, and he claims to not suffer from jetlag as he can easily fall in and out of sleep at will, and be perfectly ready to go when required.
This is his first press interview since taking charge of media services at the sixth-largest marketing group in the world in November last year, and he covers a lot of ground. His sentence structure may belie his Gallic mother-tongue, but his meaning and passion are easy to understand.
"We want to meaningfully make a difference for our clients," he says, right on message. "We need to provide added value and we are focusing on the long-term vision."
Being the smallest of the major networks is embraced as an opportunity. Winning LG's global media business last month in all countries except North America – "We [will] win that soon," Delport says – is cited as proof that the group is large enough even for the most demanding clients, while offering something far more important.
"Scale is not any more an advantage in our world," he says. "Agility is an advantage. The ability to change things, to move faster, to be nimble and completely integrated is key. It's Darwinian."
In 2012, Havas' group revenue rose 8 per cent to €1.78 billion and, in the last three months of the year, the company streamlined the bulk of its media and creative operations into two divisions: Havas Media and Havas Worldwide.
On paper, the new simplified structure looked like it was being primed for a sale, in reality a new internal management team were already plotting its next chapter.
At a local level, the formation of HMG, with reporting lines back to Paris, means less autonomy for individual agencies, but what's emerging is an altogether more cohesive venture.
On the media side, it is the two pillars of consumer-centric data and content – "With digital at the heart of everything, of course," Delport highlights – on which the group will be built. It's a road map that has already brought him success during a heavily scrutinised period as the chief executive of Havas Media France.
"When we started that process, we were cheek to cheek with Aegis in France," he recalls. "After five years, there is a €1 billion gap between us. We doubled our gross margin in France, we multiplied by three our digitalisation. Havas Media France is now 1,000 employees, with €2.5 billion media investments and 27 per cent market share. A clear leader."
The Havas board was clearly impressed. Delport reports to the HMG chief executive, Alfonso Rodes Vilà, but you sense that it is his relationship with the group's largest shareholder, Vincent Bolloré, that provides his biggest power base.
Bolloré's Emmy award winner
It was Bolloré who brought Delport into Havas after buying his production company Streampower in 2006. The same year, C.U.L.T, an interactive TV show the company had co-produced for France 5, was awarded an Emmy. The sale to Bolloré is reported to have been made from under the nose of WPP's Sir Martin Sorrell, and sources suggest the two Frenchmen have maintained a close bond ever since.
In July last year, the Bolloré group increased its stake in Havas from 33 per cent to 37 per cent and operations between the two became more aligned. Bolloré's 32-year-old son, Yannick, was promoted to vice-president and passages were built to physically link the two headquarters.
Delport is open in his admiration for the billionaire industrialist Bolloré. He says: "To jump from a one-franc, Chapter 11 family company 20 years ago and to build a €13 billion business that is owned by 90 per cent of his family, and to manage the transition of the next ten years with his sons, is quite impressive."
He calls Bolloré's electric car-sharing venture, Autolib, "the most outstanding sustainable project" and reveals plans for it to become a listed company in October. In further support of Bolloré, who famously ousted Alain de Pouzilhac as Havas' chief executive in 2005 and is usually labelled a "corporate raider", Delport says his €1.8 billion investment in the car project sends a clear message that is consistent with HMG's meaningful proposition.
Being credible is something the 45-year-old places much emphasis on, whether talking about individuals or the group. How this fits with a business in which the bulk of revenues are still generated through billings of bought media might not be immediately obvious, but he says the bigger picture is for all parts of marketing to be "change agents" for clients, and to "bring the love back".
Bringing the love back for brands
"We are facing lack of trust from consumers, and brands are struggling to be perceived as meaningful," he says. "Our job will be, more and more, not only to be the most efficient in paid media, but to be able to leverage all the owned assets of a brand in order to create something more emotional in the earned media sphere."
His comments are supported by the group's latest Meaningful Brands research of 134,000 consumers, published this week. The report develops the concept of the Meaningful Brands Index (MBI) — Havas' new metric of brand strength — considered to be the first of its kind to connect human well-being with brands at a business level.
Of the 700 brands examined in the study, the companies with higher MBI scores were found to have built stronger brands and brand equity, and developed greater loyalty preference with emotional attachment. And if all that sounds a tad woolly, the study also notes that, financially, those same companies outperformed their various stock markets by 120 per cent, an achievement on a par with the very top hedge funds.
For some critics who continue to view the desire for brands to place themselves within a meaningful context as a "first world problem", Delport says nothing could be further from the truth. The latest study finds that 5 per cent of people in Europe, and 9 per cent in the US, believe brands "notably improve quality of life", and this rises to 27 per cent in Latin America and 39 per cent in Asia. "Brands in developing markets are seen as important, trusted gateways by consumers," he says.
Future growth plans
Looking ahead, the future for Havas will not be formed through mass acquisitions. Speaking one year after rival WPP Group paid $540 million for digital specialist AKQA, and months after French competitor Publicis Groupe bought digital shop LBi for €415 million, Delport rules out such large scale additions to HMG.
"Why buying expensive digital companies, with so many employees and clients that you will never succeed in integrating?" he says. "The bosses have their own earn out scheme. Nice trophy on the shelves, but nothing comparable with building for the long-term."
Instead, he identifies HMG's direction of travel as "buying very niche companies with high expertise and skills that can be widespread all over the world without any integration issues". This approach was typified by last week's acquisition of big data specialists, and mathematical think tank, MFG Labs. The plan is to expand its services to fuel creative data-driven strategies in HMG digital hubs in the UK, US, Latin America and Asia Pacific.
Together with the group's content marketing side, which includes Havas Sports & Entertainment in 36 international offices, as well as Cake (Paris, London, New York) Havas Event and Havas Productions, MFG Labs is held-up as another example of the group being a trailblazer.
"We were the first communications company to win an Emmy award for content creation and we are now the first communications company to move into the mathematics space," says Delport.
Once again, it is the speed with which HMG is able to embed MFG that is said to be "critical," and local leaders like the UK's Paul Frampton (Havas Media) and Pedro Avery (Arena) are credited for embracing the sweeping changes such momentum requires.

"They are exactly the type of managers that I want," he says. "Digital, charismatic and empathetic with their clients… [the transition] is about speed, speed, speed. We can make mistakes, but we will fix them quickly."
The approach is leading the network into new waters, with Havas being awarded Unilever's global data business at the end of last year after pitching against management consultants as well as other holding groups. In the past six years, digital revenue has grown from less than 10 per cent of total revenues to represent 26 per cent. It's larger rivals however, have made comparable gains into digital, thanks in no small part to their acquisitions.
Helping to bring Havas' "seamless integration" plans to life are the Havas Village sites in Paris and New York, housing all media and creative operations. This is to be rolled out in all major markets and, while the problem of retail space in central London is making the process a challenge, it will not prove insurmountable, according to Delport.
"There is a fantastic momentum for us," he says. "We want to be the hottest, coolest, most agile, most mobile and completely digitally savvy communication group in the world."
Right now, Havas Media Group's new global managing director clearly believes he has the world at his feet. And be assured, he certainly won't be losing any sleep over the challenges that lie ahead.
The lowdown
Age: 45
Family: Married, with three children (18, 17 and 13)
Lives: Paris and beyond
Favourite media: Twitter
Motto: Success comes before work only in the dictionary