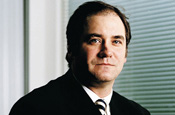 The new company will be known as Dennis Media Transasia India and will be based in offices across the continent, including Delhi, Mumbai, Bangalore, Chennai and Kolkata.

Media Transasia already publishes men's title Maxim and music magazine Blender in Asia, and there are plans to launch an Indian edition of Blender. However, the focus will be on launching online properties for the first six months.

In the long term, Dennis Media Transasia India has ambitions to become the biggest men's publisher in India.

James Tye, chief executive of Dennis Publishing, said that both privately owned companies share the same philosophy of serving customers with "innovative and outstanding" editorial.

Earlier this week, Dennis announced plans to launch its current affairs news digest The Week in Australia in October.

The Australian edition of the magazine is also set to be sold in Singapore, Hong Kong and New Zealand.
The launch is being funded by the proceeds of the sale of Dennis' US assets, including Blender, The Week and Maxim, which it sold for a reported £240m last year.