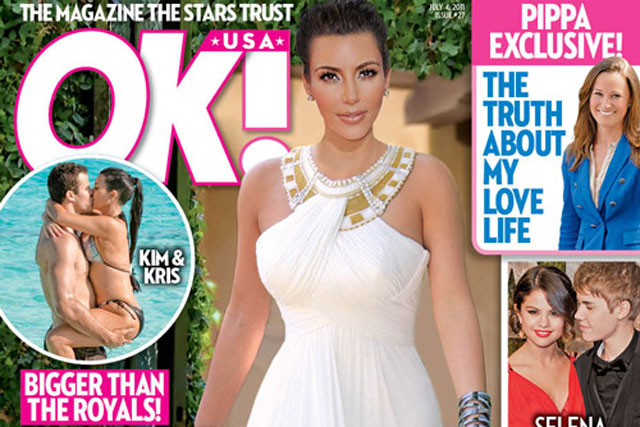 Terms of the deal have not been disclosed but there is no indication Desmond has retained any interests in the business. The move follows Desmond confirming his intention to strike a deal in the US with Media Week earlier this month.
American Media has handled the business operations of Playboy magazine since securing a deal with Hugh Heffner in November 2009.
It also publishes and wholly-owns a range of celebrity and health and fitness brands including Star, Shape Men's Fitness, Fit Pregnancy and Natural Health.
David Pecker, chairman and president and chief executive of American Media, said: "OK magazine is a very important strategic acquisition for AMI, as it increases our market share in newsstand unit sales from 30% to 36%.
"It also allows us to offer our advertisers a wider range of celebrity coverage than any single publication or group of titles from any publisher."
A Northern & Shell insider said that in the last year the group had developed many different new business plans, not least with the acquisition of Channel 5, to the point that it demanded a "reorientation" of focus.
The source also admitted that the publication stands to benefit from being part of a publishing group with such significant scale on the US newsstands already.
Desmond's foray into the US has proved a costly one, spending $175m in the first five years. He had been hoping to sell the title for around £35m but the title has had an ongoing, well-publicised, battle to attract advertising.
The number of ad pages in the first quarter of 2011 this year dropped 5.6% year on year, according to the Publisher's Information Bureau. The magazine has a circulation just shy of 800,000.