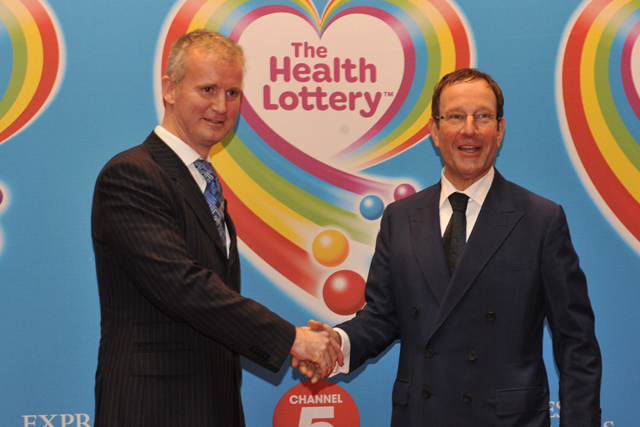 Northern & Shell bought The Health Lottery for an undisclosed sum last week and plans to launch its first draw later this year.
Desmond, at his company's City of London headquarters, said: "Buying the lottery was a no brainer for me because our customers are retailers, supermarkets and garages. We felt we could help Martin [Hall, the chief executive] and the team to obtain first class distribution."
Tickets will cost £1, with 20.1p in every pound will go to health-related causes outside the remit of the NHS and its donations will "touch every part of England, Scotland and Wales".
The money will be administered by an independent charitable trust and beneficiaries will be chosen by local health interest groups.
In comparison, The National Lottery, operated by Camelot since 1994, donates 28p in each pound and estimates it distributes around £25m to good causes, which include the film industry and sport, every week.
Desmond said he hoped The Health Lottery will be a profitable venture for N&S and enable the company to donate more money to charity but declined to comment about revenue or confirm how much will go to N&S as profit.
Martin Hall, chief executive of The Health Lottery, was also unable to confirm the value of the lottery's prizes, but did describe them as "life changing".
Hall said the draw will most likely screen on Channel 5 after joking it would go to a Sky channel. He said: "It's hard to imagine the TV draw would be on Sky. It's likely to be on Channel 5."
Desmond said: "Between Channel 5, the Daily Express, the Daily Star and OK! 37 million people watch or read our products each week so we can also help with promotional marketing.
"This is a great way of being able to get across more than £50m a year to change people's lives. That's why we got involved. It's a very exciting project and we're looking forward to starting very soon."
In the past Desmond has made a number of charitable donations to health causes including a children's ward at Moorfields Eye Hospital, the Richard Desmond Children's Eye Centre, and teenage cancer wards.