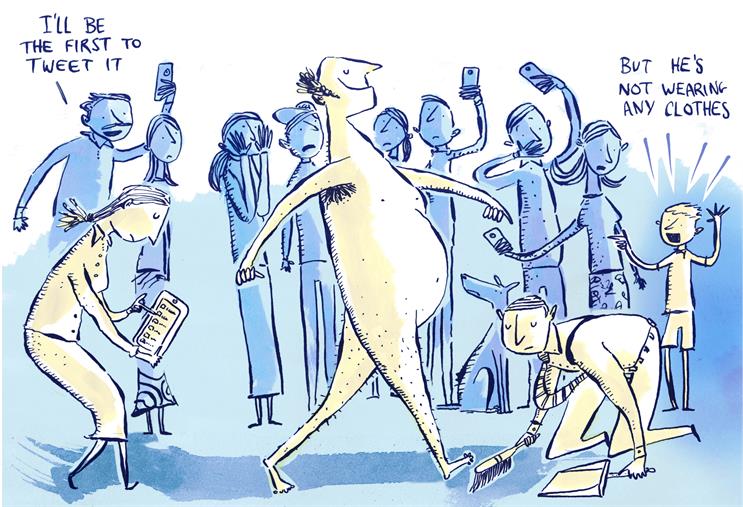 When is a friend, not a friend? When it's a faux Facebook friend.
As social media becomes a bigger part of consumers' lives, brands are exp­anding communication into this digital environment and looking for new ways to engage shoppers. But in the rush to gain online traction there is a risk that the real value of social inter­actions has been con­fused with meeting arbitrarily set targets for volumes of followers or "likes". Indeed, new research conducted for Nexus Com­muni­cations shows that in the grocery sector, real friends beat faux ones and "likes" are a shallow level of engagement.
In the "Shopping Centred" study, 82% of people credited information from their trusted circle of friends and family as a key influence on their grocery purchases, compared with only 4% who cited social-network discussions as influencing them. This falls to just 1% for Twitter.
Face-to-face conversations are also the most likely place for discussions about these products. More than three-quarters of them (78%) take place face-to-face, while 8% of product-sharing advice occurs in the digital arena.
These findings offer important insight for grocery brands, and beyond, when it comes to the direction and weight of their comms strategy. Because if the impact of face-to-face, word-of-mouth recommen­dation is the greatest, marketing activities leading to them must be prioritised.
Richard Medley, managing director, Nexus Communications, says: "When so many social communities still lead on 'products' as the driver of their content, it highlights the lack of listening to what the audience wants. Did the channel register as a lead driver of product sales in our study? Barely. Does that mean it has no place in the mix? Of course not.
"It's a space for building brand rele­vance and affinity, and so should live on an editorial curve, with 'thinking like an editor' the critical pre­requisite for a suc­cessful community. Stealth storytelling and relationship-building is far more likely to have commercial impact than begging for 'likes'. If you think about what you share, it will come down on the side of the theatric­al over the functional," he notes.
Sophie Griffiths, head of digital at Nexus, adds: "There is no reason for any traditional/digital silos. It's imperative that a brand drives valuable conversation that influences purchase and sharing across channels. It's also increasingly the consu­mer's online/offline joined-up expectation and what will drive proper sustained value over shallow surface measures."
There may be a tendency to dismiss grocery brands as not stimulating much conversation via any medium, but don't be fooled: more than a third of those surveyed talk face-to-face about these at least once a week, rising to more than half of those either 34 years old or younger.
The research also identified four clear types of shopper: Researchers, Planners, Habituals and Spontaneous. Planners (40%) shop with a clear knowledge of what they want, while the Spontaneous, the next-biggest group at 26%, are inspired by what they see in store. They are closely followed by the Habituals (25%), who stick to what they know and always buy. Researchers (9%) want to know more before they shop.
The latter are the most interesting for communica­tions specialists, as they are the biggest sharers of what they discover: 65% of them find information to pass around at least once a week. They are most likely to feature on a brand's data­base, leave comments on a website and share brand informa­tion. They need a high level of discover­able content that helps them feel like insiders and celeb­rates their influenc­er status. Authentic story­telling and editorial can be very powerful in micro-targeting them via the right suite of digital tools.
But no matter what type of shopper a person is, the research also clearly identi­fies a hierarchy of influence. Family and friends at the top, followed by PR and advertising. While advertising through mass reach wins on awareness (34% compared with 26% for PR), PR comes out top on trust and reassurance (23% compared with 17% for advertising).
The use of celebrity endorsement is a common marketing tactic, but the research challenges assumptions about how this translates into propensity to buy endorsed products. As a driver of pur­chase, celebrity scrapes a meagre 4% level of influence. If the celebrity has a level of expert status, it helps – and then is best achieved with appropriate PR rather than advertising – but messages need more sophistication than merely attach­ing a famous name if they are to work.
Professor Paul Baines from the Cran­field School of Management says of the research: "It flies in the face of the belief that companies should trans­fer their spend to social-media marketing alone at the expense of traditional communica­tion methods in the grocery sector. In fact, very few comp­anies have developed genuinely success­ful and effective online communities through social-media mar­keting. The point is not to denigrate it – it has an important role, done well, in build­ing brand awareness, and some­times chall­enging inept brand communications.
"But there are myths, including the ideas that celebrity in itself sells, virtual friends who 'like' products on Facebook are the only people who matter, advertis­ing is more persuasive than PR and more people shop on impulse than plan it.
"So, don't believe the hype – traditional and personal marketing communications are not dead yet, and social media is not the only game in town."