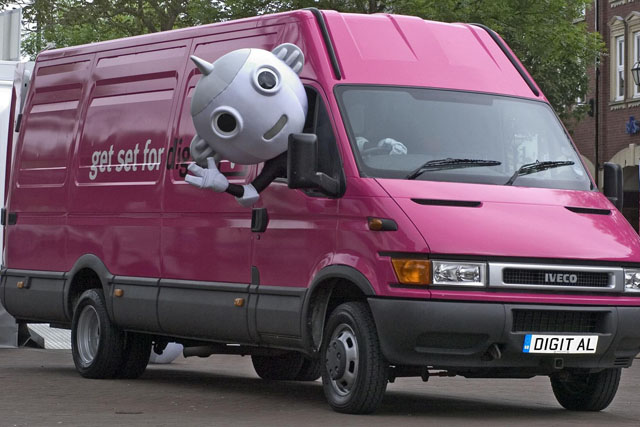 The capital's analogue TV signal will be switched off on 4 April. To promote the switchover, Digital UK is running a £6m TV, radio, local press and online advertising campaign.
A TV ad features a female viewer who is unaware of the switch to digital. The character's TV stops working during a favourite programme, so she visits Digital UK's brand mascot, Digit Al, to ask whether she can watch his TV. Digit Al's house soon becomes swamped with unprepared viewers.
Digital UK is keen to warn London residents that if they do not switch to digital TV receivers, they will lose access to their 'favourite' channels.
The London switchover coincides with the lead-up to the London 2012 Olympics, giving the campaign extra weight for viewers who enjoy sport on TV.
Beth Thoren, Digital UK's director of communications, believes the campaign is its most important yet.
'This is the biggest test of our communications to date,' she said. 'This high-visibility, high-impact campaign will give us the cut-through we need to prepare 12m viewers and ensure a smooth switchover ahead of the Olympics.'
To aid Londoners with the switch, a 20-page guide will be sent to each home, and road-shows will give the public the chance to ask questions.
The first region to switch was Whitehaven, Cumbria, in 2007. Since then, the Borders, West Country, Wales, Granada, West, Channel, STV North and STV Central TV regions have switched. Northern Ireland will be the last in late 2012.