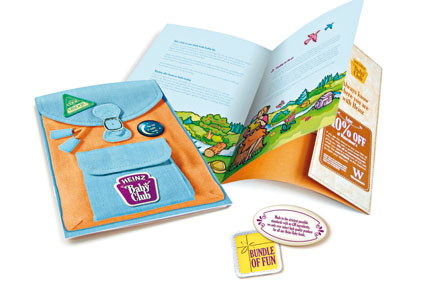 Hardly a year passes without direct marketing and sales promotion agencies facing stark warnings from industry experts that they must 'adapt or die'.
The overwhelming change in how we purchase and consume, brought on by widespread broadband access and an increasingly web-savvy population, has transformed the below-the-line landscape.
Digital work now accounts for more than half of many direct agencies' income. However, the industry remains inextricably linked to direct mail, and its image suffers by association with what is widely perceived as a wasteful, 'old-fashioned' and non-environmentally friendly medium.
The past 12 months have been tainted by the cloud of recession, which forced brands to slash the cost of marketing and wring every last drop of value from their agencies.
'Rate pressure has been incredible, with some of the most direct and aggressive negotiations I have ever experienced from procurement departments demanding ridiculous rate cuts or termination of contracts,' says Richard Perry, chief operating officer of GyroHSR, which takes top spot in Marketing's league table this year.
Recessionary measures
The worst is still to come, according to Jon Ingall, managing partner at Archibald Ingall Stretton. 'We got a lot of pressure from procurement departments,' he says. 'It will be more severe this year because people are battening down the hatches and focusing on ROI.'
A glance down the table confirms that many agencies are riding out the recession. For some, this can be attributed to restructuring their business, but others have been hit by the double blow of rate pressure on existing work and a lack of new business.
Observers say the downturn has led to more conservative work that has tended to focus on customer retention, rather than growing brands' business. Despite this, there is still a general feeling that, while 2009 was undoubtedly a slog, there are reasons to be optimistic about the year ahead.
The emergence of mobile advertising as a mainstream marketing channel, for example, is a trend that direct agencies are well-placed to capitalise on. Perhaps even more crucial is advertisers' quest to integrate their marketing activities. Direct specialists are confident they can take on a bigger role as brands look to consolidate their agency relationships in a climate of digitally driven communications.
Some agencies have attempted to pre-empt this by adding extra marketing services to their offer, in areas as diverse as PR, customer publishing and management consulting.
Ian Millner, chief executive of Iris Worldwide, says advertisers are now demanding a more consultative service.
Iris acquired management consultancy Concise in 2008, which has enabled it to offer advertisers not just strategic advice on loyalty, CRM, research and data, but also change management and market-entry strategies.
'They (advertisers) are asking us to be faster, more effective, more collaborative, and better value,' says Millner. 'They are looking for fewer or no compromises. They are also looking for more evidence of return and a better sense of leadership.'
James Middlehurst, managing partner at MBA, has also observed that marketers are asking their agencies to take a more strategic role. 'These days clients will pick up the phone and ask for your view on anything,' he says.
'It may not be a specific communications question - as far as they are concerned, you are part of their business. Direct and sales promotion agencies need to be flexible enough to deal with these questions.'
In part, this increased level of dependency on agencies can be attributed to smaller marketing departments, says Ingall. 'Clients need as much help as they can get. They want much more strategic support. They are more reliant on their agencies because they don't have the resources internally,' he adds.
However, the rapid rise of digital has led to a skills shortage in agencies, as demand outweighs supply for talented direct marketers with digital nous.
Consumer engagement
Mike Welsh, chief executive of Publicis Dialog, agrees that 'now, more than ever, is about digital'. He says online has been the main beneficiary of the economic downturn, not just because it is cheaper, but because it fits with brands' desire to engage in what he calls the 'participation nation'.
'Social media and social CRM is the way that future-facing brands want to engage with their consumer and with their prospects,' he adds.
'Engage' has become a buzzword, with direct and sales promotion agency bosses using it liberally. This could be dismissed as new business-seeking jargon, but, in fairness, it usefully describes the requirement for marketing messages to be a relevant and useful part of consumers' lives.
Welsh cites his agency's work with Renault as an example. As 80% of car purchasers start the process online, the brand cannot afford to ignore this space and must work hard to engage potential buyers at this initial stage. To this end, it works hand-in-hand with sister agencies Publicis Modem (digital) and Publicis Blueprint (customer publishing).
Similarly, online bookmaker Sportingbet works with LIDA to drive levels of engagement early in the customer relationship. The agency's chairman, Lisa Thomas, says it is vital to have an intense threeto four-day period of digital communication once customers have registered, to develop a dialogue between brand and consumer.
Looking ahead to the next 12 months, Thomas predicts 'an unavoidable and marvellous shift' of adspend into the digital direct marketing space, as advertisers recognise the ability of direct specialists to build brands as well as change behaviour.
The ability to add brand-building to direct-response skills is an attribute that direct agencies have been claiming for some time, but industry leaders say recent developments, such as mass participation in social media, have given the claim added credence.
Ross Taylor, chief digital officer at Tullo Marshall Warren, points to his agency's work for Lynx deodorant on Facebook. 'Every day we are engaging in that space, having banter with people. That has led to an exciting change in the way that we as an agency organise ourselves.'
Victoria Fox, managing director of TouchDDB, adds: 'We're now in a space where the objective is activating customers, and as a consequence the time spent with the brand is what it's all about.
'What's brought this to a head is the convergence of increasingly pressurised budgets and a new familiarity and confidence with technologies available.'
Advertisers, notably including the COI, are looking for 'joined-up' marketing planning and execution. Those agencies that can clearly demonstrate their digital expertise alongside a strong direct marketing heritage will be particularly well-placed to take the lead on wider brand marketing.
Gyro HSR's Perry predicts a gradual shift in how marketing departments are structured. Rather than different marketers handling each discipline, he says advertisers should look for 'big ideas that traverse disciplines and media'.
'A lot don't integrate their marketing. The marketing departments are still organised how they were five years ago. It is time for brands to reorganise internally,' he adds.
MBA's Middlehurst says agencies must play their part in this transformation: 'Often, clients will write a direct marketing brief because that is what they have always done. We are trying to change that a little bit. The answer might be something else,' he says.
This trend toward integrated marketing could, in turn, lead to a reduction in the total number of agencies that marketers include on their roster. Millner says marketers should be 'doing fewer things and working with fewer people'.
'There will be fewer agencies,' he says. 'The better ones will attract more brand response work, which used to be called brand advertising. This will be completely integrated, work-powered and enabled by strong digital and CRM skills. The best will get better and the big will hold their own, but the small, niche and inflexible will find it difficult.'
Over the next 12 months, experts forecast that the bigger direct and sales promotion agencies will further expand their digital offer through the acquisition of smaller agencies and organic growth.
Meanwhile, above-the-line agencies will look to strengthen their direct, digital and CRM offer to compete with them.
Annette King, chief executive of OgilvyOne London, says: 'With the digital era in full swing, direct marketing is an idea the time for which has finally come. I expect to see many of the principles we have been using in direct marketing for years really moving to the fore in the entire marketing mix.'
Ingall, for one, is relishing the potential: 'Our challenge now is to solve problems - the channel has become less relevant. It is a fun time to be around. I have been doing this for 25 years, and things have never changed so rapidly.'
With the country looking likely to emerge from the downturn this year, easing rate pressure and giving advertisers a more confident outlook in the process, direct and sales promotion agencies that stay on top of digital will be well-placed to succeed.
---
METHODOLOGY
Information was collated by Marketing by sending a survey to each agency directly.
Respondents have been ranked according to their 2009 profit. If nofigures for 2009 were available, we have accepted 2008 data. These agencies have been placed in the table but not ranked. Rapp is affected by the Sarbanes-Oxley Act, and was unable to supply any financial data, so we have used Companies House information from Kingston Smith W1.
Marketing takes care to publish accurate company data, but cannot be held responsible for any errors or omissions in the leagues.
Notes: RMG Connect ceased trading under that name in January, and has now been integrated into JWT.OgilvyOne does not appear in the leagues, as financial figures cannot be extracted from the wider Ogilvy Group Holdings. Transactis is the trading name of CDMS. G2 UK was previously Joshua G2.
Source: Marketing Direct Marketing and Sales Promotion Leagues 2010
Agency notes:
GyroHSR
Founded 1981. Chairman David Bell, CEO Richard Glasson. Privately owned. No specialisms disclosed. Clients include: Virgin Atlantic, Nokia Siemens Networks, T-Mobile
Iris Worldwide
Founded 1999. Chairman Drew Thomson, CEO Ian Millner. Privately owned. DM 50%, SP 10%, other 40%. Clients include: Sony Ericsson, Barclaycard, Volkswagen
Digital Marketing Group
Founded 2006. Chairman Stephen Davidson, CEO Ben Langdon. Publicly quoted. DM 44%, SP 2%, other 42%. Clients include: Pepsi Europe, Vodafone, Open University
Wunderman
Founded 1958. Chairman/CEO Brendan Tansey. Subsidiary WPP. DM 100%. Clients include: Ford, Nokia, Microsoft
Tangible
Founded 2008. Chairman Andy Carolan, CEO John Rowley. Subsidiary Cello Group. DM 52%, SP 4%, other 44%. Clients include: Lloyds Banking Group, Royal British Legion, Scottish Government
Tullo Marshall Warren
Founded 1987. CEO Chris Warren. Subsidiary Creston. DM 89%, SP 2%, other 9%. Clients include: Nissan, Unilever, Sainsbury's
The Marketing Store Worldwide
Founded 1987. Managing director Simon Marshall. Subsidiary Havi Group. DM 10%, SP 55%, other 35%. Clients include: McDonald's, Shell, Vodafone
Rapp (affected by the Sarbanes-Oxley Act: See methodology)
Founded 1981. Chairman Ian Haworth, CEO Peter Mitchell. Subsidiary Omnicom. DM 81%, SP 3%, other 16%. Clients include: Skype, NSPCC, GlaxoSmithKline
CHI & Partners
Founded 2001. Chairman Johnny Hornby, Managing directors Sarah Golding, Nick Howarth. Privately owned. No specialisms disclosed. Clients include: Royal Bank of Scotland, Carphone Warehouse, Lexus
EHS 4D Group
Founded 1986. Chairman Terry Hunt, CEO Matt Atkinson, managing director Mike Spicer. Subsidiary Havas. DM 70%, SP 2.5%, other 27.5%. Clients include: Tesco, ComparetheMarket.com, easyJet
The Direct Marketing Group
Founded 1996. Chairman Sir David Jones, CEO Martin Smith. Privately owned. DM 77%, other 23%. Clients include: AICR, RSPCA, Swinton Insurance
Billington Cartmell
Founded 1990. Managing partners Paul Cartmell, Ian Billington. Subsidiary DMWLS 562 Ltd. DM 37%, SP 25%, other 38%. Clients include: Morrisons, GlaxoSmithKline, Unilever
Transactis
Founded 1928. Chairman Richard Faber, CEO David Steele. Privately owned. DM 40%, other 60%. Clients include: Shop Direct, Betfair, Damart
Tequila\London
Founded 1992. CEO Tim Bonnet. Subsidiary Omnicom. DM 59%, SP 10%, other 31%. Clients include: Canon, Electrolux, Carbon Trust
G2 UK
Founded 1998. Chairman Peter Thompson, managing director Nick Hoadley. Subsidiary Grey. DM 20%, SP 20%, other 60%. Clients include: Procter & Gamble, Nectar, Bacardi Global Brands
Carlson Marketing UK
Founded 1960. President EMEA Jonathan Harman, managing director UK John Hiney. DM 65%, SP 22%, other 13%. Clients include: Royal Bank of Scotland, Hyundai, Coca-Cola
Partners Andrews Aldridge
Founded 1998. Chairman Steve Aldridge, CEO Phil Andrews. Subsidiary Engine Group. DM 84%, SP 11%, other 5%. Clients include: Vodafone, Gala Coral Group, COI
Rapier
Founded 1988. CEO Jonathan Stead. Privately owned. DM 65%, other 35%. Clients include: Lloyds TSB, Virgin Media, Yell Group
Momentum UK
Founded 1987. Managing director UK Julian Ingram, managing director Manchester Paul Watson. Subsidiary McCann Erickson Worldgroup. DM 40%, SP 10%, other 45%. Clients include: Microsoft, Cereal Partners Worldwide, Coca-Cola
BD Network
Founded 1990. Chairman Ghill Donald. Privately owned. DM 20%, SP 30%, other 50%. Clients include: Coca-Cola, Nintendo, Molson Coors
Archibald Ingall Stretton
Founded 1998. Managing partners Stuart Archibald, Jon Ingall. Subsidiary Havas. DM 75%, other 25%. Clients include: O2, EDF Energy, WRAP
Haygarth
Founded 1984. CEO Sophie Daranyi, managing director Marcus Sandwith. Privately owned. DM 23%, SP 25%, other 52%. Clients include: Palm, Walt Disney Studios Home Entertainment, SCA
Chemistry Communications Group
Founded 2000. Chairman Bernard Fisher, CEO Joe Garton. DM 65%, SP 15%, other 20%. Clients include: Orange, Diageo, SCA Hygiene
Elvis
Founded 2003. Founding partner Martin Semmens, managing partners Mike Cullis, Craig Morgan, Emma Timbers. Subsidiary Cossette. DM 53%, SP 25%, other 22%. Clients include Virgin Holidays, Mitchells & Butlers, Pizza Hut
RMG Connect
Founded 1991. Chairman Toby Hoare. Subsidiary JWT Group. DM 65%, SP 10%, other 25%. Clients include: Shell, Nokia, HSBC
Targetbase Claydon Heeley
Founded 1989. CEO Steve Grout. Subsidiary Omnicom. DM 80%, other 20%. Clients include: 3, Royal Mail, De Vere
TRO
Founded 1982. Chairman/chief executive Rob Allen. Privately owned. SP 25%, other 75%. Clients include: BMW, GlaxoSmithKline, Diageo
LIDA
Founded 2000. Chairman Lisa Thomas, managing director Mel Cruickshank. Subsidiary M&C Saatchi. DM 85%, other 15%. Clients include: Boots, Mini, The Carphone Warehouse
Kitcatt Nohr Alexander Shaw
Founded 2002. Chairman Jeremy Shaw, Managing partner Marc Nohr. Privately owned. DM 85%, other 15%. Clients include: Waitrose, Lexus, COI
Libertine
Founded 2008. Chairman Philip Beeching, managing directors John Wood, Mark Barndis. Privately owned. DM 50%, other 50%. Clients include: HMV, Butlins, Artemis
Hicklin Slade & Partners
Founded 1998. Chairman Justin Hicklin, COO Matthew Brown. Privately owned. DM 71%, SP 2%, other 27%. Clients include: Honda, Sony, Diageo
SMP
Founded 1983. Chairman Simon Mahoney, CEO Chris Simpson. Privately owned. DM 35%, SP 30%, other 30%. Clients include: Kimberly-Clark, Sandisk, Procter & Gamble
Publicis Dialog
Founded 1966. Chairman Nigel Jones, CEO Mike Welsh. Subsidiary Publicis Groupe. DM 75%, SP 15%, other 10%. Clients include: Zurich, Renault, Visa
23red
Founded 2000. Chairman/CEO Jane Asscher. Privately owned. DM 30%, SP 5%, other 55%. Clients include: DoH - Change4Life, Department for Transport - THINK!, Bacardi Global Brands
Indicia
Founded 2000. CEO Ian Stockley. Privately owned. DM 57%, other 43%. Clients include: Tourism Ireland, Littlewoods, Sainsbury's Bank
Meteorite Marketing
Founded 1999. Chairman Hugh Bishop, managing director Debbie Smith. Privately owned. DM 72%, other 28%. Clients include: Homebase, Expedia, Costa
Response One
Founded 1998. CEO Patrick Sargeant. Subsidiary Response One Holdings. Clients include: Open University, BSkyB, Staples
Balloon Dog
Founded 1997. Chairman Chris Murphy, agency principal James Clifton, strategic managing partner Greig McMcallum. Subsidiary Friars573 Ltd. DM 62%, SP 5%, other 33%. Clients include: Aviva, Barclays, Pret A Manger
Proximity London
Founded 1991. Chairman Cilla Snowball, CEO Mike Dodds. Subsidiary BBDO. DM 78%, SP 3%, other 19%. Clients include: Royal Mail, Volkswagen, P&G
Watson Phillips & Norman
Founded 2003. Chairman/managing partner John Watson. Privately owned. DM 83%, other 17%. Clients include: Which?, Laithwaites, RIAS
Snowball
Founded 2002. Managing director Damian Bentley. Subsidiary Tangent Communications. DM 55%, other 45%. Clients include: Greene King, Citroen, Bang & Olufsen
TDA
Founded 1996. Managing director Heather Westgate. Privately owned. DM 71%, other 29%. Clients include: The Co-operative, Guide Dogs, Karndean
Eclipse Marketing
Founded 1988. Chairman and managing director David Pickering. Privately owned. DM 75%, other 25%. Clients include: Harley-Davidson, Alpro Soya, Kingston Technology
Cubo Brand Communications
Founded 1995. Joint managing directors Kerry Simpson, Chris Walmsley. Subsidiary Cagney Group. DM 30%, SP 15%, other 55%. Clients include: Busch Entertainment Corporation, Pernod Ricard, Sara Lee
Stephens Francis Whitson
Founded 2005. Chairman and managing partner Ben Stephens. Subsidiary VCCP Partnership/Chime. DM 65%, SP 5%, other 30%. Clients include: More Th>n, npower, Southern trains
Perspektiv Group
Founded 1995. CEO Dave Ungless. Privately owned. DM 89.5%, SP 0.5%, other 10%. Clients include: Gala Coral Group, Vision Express, Punch Pub Company
Them
Founded 1992. Joint managing directors Sandra Hutchison and Walter Denny. Privately owned. DM 36%, SP 8%, other 56%. Clients include: Bupa, Johnson & Johnson Vision Care, Wilkinson Sword.
Red C
Founded 1994. CEO Adrian Rowe. Privately owned. DM 70%, other 30%. Clients include: Swinton Insurance, Freemans Grattan Holdings, AGA Rangemaster Group
Rocket UK
Founded 2001. Managing director Andy Huggins. Privately owned. SP 100%. Clients include: sit-up channels, JML Direct, Flying Brands
Mike Colling & Company
Founded 2002. Chairman John Watson, managing director Mike Colling. Privately owned. DM 88%, other 12%. Clients include: Which?, RSPCA, WaterAid
Market Makers
Founded 2004. Managing director Paul Thomas. Privately owned. DM 30%, other 70%. Client include: Moneycorp, Communisis, Lloyds TSB
KHWS
Founded 1993. Managing directors Andre Watts,Nick Hawkes. Privately owned. DM 60%, SP 20%, other 20%. Clients include: ExxonMobil, World Duty Free, Samsung
Mabox
Founded 2002. Chairman/managing director Tim Hallac. Privately owned. DM 20%, other 80%. Clients include: The Reed Group, Radisson Hotels, William Reed
Cognito Integrated Marketing
Founded 2003. Managing director Bob Brenchley. Privately owned. DM 55%, SP 20%, other 25%. Clients include: Nivea, Tork, Peverel