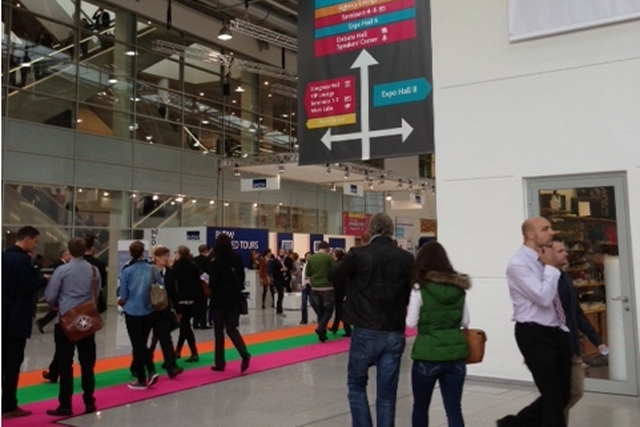 Dmexco is big. Really big. It's Europe's premier digital exhibition, takes place in Cologne and boasts over five vast exhibition halls.
This year's attendance was rumoured to be in the region of around 26,000 and, as we hopped onto a shuttle bus, through registration and first rounded the entrance armed with maps and guides (guided tours are available), it was easy to see why just so much of Europe's digital economy is attracted to the event.
The theme this year is "Turning Visions Into Reality". Given the size and scale of the event, it's difficult to pin down a single perspective, however after listening to exhibitors (ranging from media publishers to search companies, creative, media and social media agencies) and hearing from the hundreds of speakers and panel debates a few hot topics emerged:
1. Convergence
The sheer scale of digital specialisms under one roof clearly illustrates this. The theme emerged strongly in the excellent panel debate 'The Efficiency Summit'.
From a technology perspective this means the challenge of proliferation of services, platforms and devices: "There can be no art without science" (and vice versa), as Greg Coleman, president at Criteo, so neatly summed it up.
What that highlights in practice is the need for a unified platform approach across the industry; a simplification of companies and services with specialists such as mobile players plugging into broader base server platforms. And within advertiser organisations, the need to realign.
2. Data, big data
Data sets off product development. "Advertising has been replaced with 'datatising'," said Tim Armstrong, CEO Chairman AOL. Data drives creative. We've seen a lot of data companies at dmexco whose stands were crawling with agency networks.
Programmatic data companies such as Data XU are also very keen to eradicate the image of poor inventory on RTB and to point out private exchanges for premium inventory sources. The key tension point revolves around tracking consumers across devices vs. the agency model of keeping specialists in silos.
3. The need to market to individuals
Brands are increasingly positioning themselves as services and not products and, in turn, marketing efforts should be centred around what customers want. Marketing is becoming even more tailored to individuals.
Tim Armstrong, CEO and chairman at AOL, spoke eloquently on this and later, the theme also emerged in the Social Media Debate via Surjit Chana, CMO IBM Europe: "Marketing should be customised."
When targeting individuals: mobile (and video, to some extent) emerged as a clear winner in driving real engagement because of ability to target in realtime, on location in an emotive way.
4. Changing demography of marketing organisations
A new era for the CMO is dawning, because data and technology has changed the face of marketing forever. And that can mean a reinvestment in skills: "CMOs will become more tech savvy and CTOs more customer savvy'"(via Tomorrow's Visions Today).
"'CMOs are excited because technology and marketing are merging...IBM marketing skills are shifting to analytics, writing, content production." And, as Marcus Speiring at head of product at Flickr, says, "think as a user"'.
As Dr Sarah Wood, co-founder and COO at Unruly, answered, when questioned around brands hiring journalists and storytellers: "Publishers have to become better marketers and marketers better publishers."