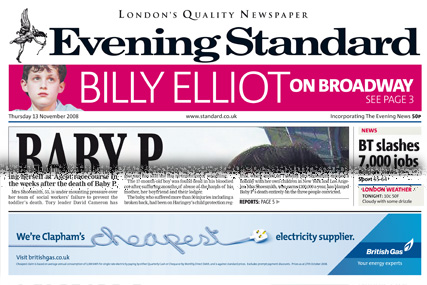 Associated Newspapers has agreed the sale of a majority interest in the Evening Standard for what it termed a "nominal sum" to Evening Press Ltd, a company formed by Alexander Lebedev and his son Evgeny Lebedev and owned by Lebedev Holdings Ltd.
The move will see a new company, Evening Standard Ltd, established that will own the Evening Standard, in which Associated will be a minority shareholder with 24.9%. According to unconfirmed reports, Lebedev will pay only £1 for the title.
Associated will continue to provide services, including printing and distribution, to the Evening Standard for an initial period, with the opportunity to extend these arrangements by agreement.
Alexander Lebedev is the major shareholder, alongside former President Mikhail Gorbachev, in independent Russian newspaper, Novaya Gazeta.
The chairman of the Board of Evening Standard Ltd will be Alexander Lebedev. Justin Byam Shaw, an adviser to Lebedev Holdings, will be deputy chairman and Evgeny Lebedev will be senior executive director.
The deal is expected to complete next month, following an employee consultation process. No other newspaper publication owned by DMGT is involved in the transaction.
Lord Rothermere, chairman of DMGT plc, said: "We are very proud to have owned the Evening Standard. It has a long and distinguished history as one of the world's great city newspapers, based on outstanding journalism.
"I believe that Alexander Lebedev shares my commitment to newspapers and will continue to invest in the Evening Standard. I would like to take this opportunity to re-iterate that DMGT remains fully committed to journalism and newspaper ownership."
Martin Morgan, chief executive of DMGT plc, said: "We believe that the agreement announced today is in the best interests of the staff and our shareholders. The investment planned by Mr Lebedev secures the future of the paper. DMGT will retain a 24.9% stake.
"We will continue to provide a range of support services to the paper but will not have a seat on the board or any involvement in its editorial policy. DMGT will benefit from the reduction in losses and will continue to invest in the development of our newspapers and other businesses."
Alexander Lebedev, chairman of Lebedev Holdings, said: "The Lebedev family is delighted to be investing in the Evening Standard. We are strong supporters of a free and independent press and we greatly admire the Evening Standard as an iconic publication with its pedigree of fine journalism and commentary.
"We are committed to strengthening the newspaper's competitiveness and look forward to working with Associated, which will continue to be involved as a minority shareholder."