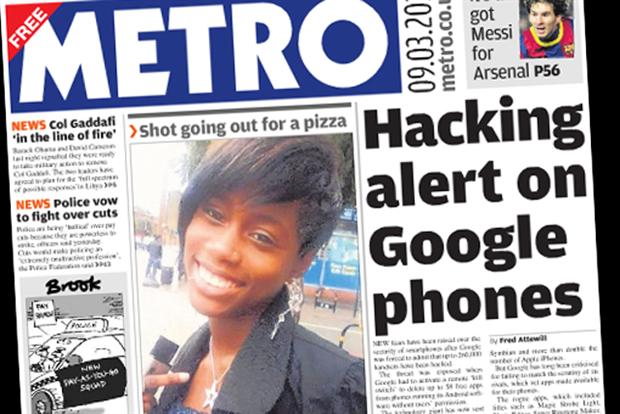 Talking to Media Week after last week's announcement Metro's website will be folded into the group's online juggernaught MailOnline, Kevin Beatty, chief executive of DMG Media, part of DMGT, said: "There are no plans to sell The Metro."
The concise but clear statement breaks company protocol of not commenting on speculation, and is a clear attempt to stop rumours building that the group is planning to offload the free urban paper.
Its accompanying website, Metro.co.uk, will now be folded into MailOnline, although the two brands will remain identifiable. It comes despite the site having increased its number of unique browsers by 300% in the past year to 23 million in January.
The control of the tablet edition of Metro will remain with the newspaper.
Steve Auckland, managing director of Metro, said: "The decision has been made to run the digital operation Metro.co.uk as part of DMG Media, and you certaintly wouldn't sell a business without a website, so I think that puts that one off for quite a while."
According to sources, in June, Metro is planning to launch a new multimedia advertising campaign. The marketing activity is being created by Dare and will look to promote what the newsbrand stands for as well as remind potential advertisers of its young, upwardly mobile daily readership.
Martin Clarke strikes again
Auckland admits he was not involved in discussions to move Metro's web business into neighbouring MailOnline, but said he had been aware talks had already started before he returned to DMG Media in December.
"I got an idea when I came that this could happen," he said, "but nothing had been decided then."

No jobs will be lost in the move, which Auckland said "only affected a handful of people", although a number of journalists and sales staff now report to MailOnline's publisher, Martin Clarke.
The move is being viewed by some as the latest victory for Clarke, who is credited with being a major driving force behind MailOnline's global success and whose influence within the group continues to grow.
MailOnline hit a new high of 190 million unique browsers in January, and once Metro's site is subsumed it should easily surpass the 200 million mark.
Clarke reaffirmed his ambitions for MailOnline during the Leveson Enquiry in May 2012, when he described the site's biggest competitors not as rival newspapers but as the pureplay giants Yahoo, Microsoft's MSN and AOL's Huffington Post.
Auckland said: "There is obviously big expertise within MailOnline. Martin Clarke has done really well with the site. The view is, raher than Metro.co.uk trying to reinvent the wheel, we can take this forward a lot quicker commercially with MailOnline."
Auckland focused on print
The managing director, previously responsible for knocking DMGT's regional newspaper operation Northcliffe Media into shape ahead of a sale to David Montgomery's Local World, said he was comfortable with the decision.
"It's not an issue for me," he said. "When I came back to Metro, while we had made good strides forward on some of the stuff we've done, we weren't really attracting a lot of revenue from it.
"The sites looked a bit better, but the revenues were not brilliant. In the between times, we'd lost a little bit of an edge with the print product. That's why I said straight away, even before their decision about Metro.co.uk, we had to get hold of print."
Metro's revenue dropped 12% last year to around £80m, although comparisons were tough on the back of the London 2012 Olympic advertising.
The morning newspaper distributes 1.36 million copies a day, of which 750,000 are in London. The renewed focus on the print product is said to have resulted in a 14% revenue lift in January and more gains in February.
Auckland added: "If you look at the performances for the first three months of the year, we're certaintly top on [press] marketshare."
However, the managing director does not hide the fact that if Metro was put up for sale - along with its website - "of course I would be interested" in a possible MBO. He appeared to hold out some possibility of DMG Media selling Metro in the medium term, musing: "The sale is not going to happen at the moment. Who's to say in six months or a year's time what will happen."