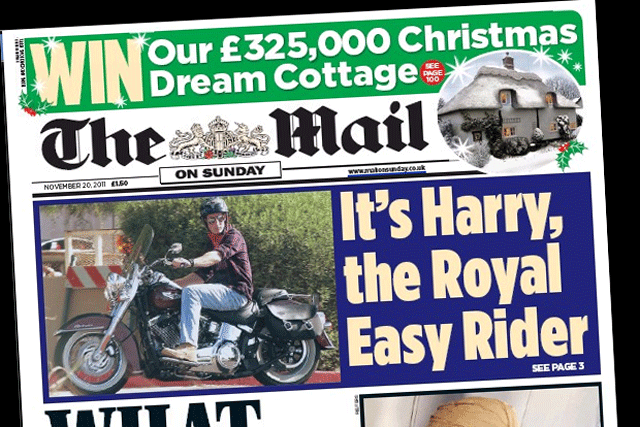 DMGT, which also publishes the national daily title Metro, as well as more than 100 regional newspapers, reported revenues of £1.97bn in the year ending 2 October 2011. Pre-tax profits fell from £146m to £125m.
Profits were hit by a number of factors, including higher newsprint prices, a tough advertising market, price promoting The Mail on Sunday, and a £42m one-off exceptional charge relating to the group moving its print operations from Surrey Quays to a new site in Thurrock, Essex.
The Mail on Sunday dropped its price from £1.50 to £1, following the closure of the News of the World, and also launched a major DM campaign, as it looked to capture its readers.
Martin Morgan, DMGT chief executive, said: "DMGT has delivered a solid set of results. Our UK consumer business has been impacted by the weak advertising environment, particularly in the third quarter, and higher newsprint costs resulting in profits down 20% for the year."
Across its UK national newspaper unit, Associated Newspapers, operating profits fell from £89m to £76m, while revenues were down from £883m to £862m, partly due to lower display revenues from the Daily Mail and The Mail on Sunday.
Circulation revenues across the Mail titles fell by 2% to £343m, partly due to the temporary price discounting by The Mail on Sunday, as it looked to lure in News of the World readers.
It is thought that executives at DMGT had hoped to attract more readers to The Mail on Sunda, than proved the case.
The group highlighted the performance of its loyalty scheme, the Mail Rewards Club, launched this year, which it said had now attracted 600,000 members.
Across Northcliffe Media, which houses more than 100 regional titles, profits fell from £27m to £17m, while revenues were down from £261m to £236m in the period.
The group, which failed to offload its Kent papers to Kent Messenger group in the period, said it had made significant cost reductions by changing the distribution of its papers and other initiatives.
Northcliffe reduced its headcount by more than 600 staff in the period, in an effort to offset a difficult regional press market.
DMGT's business-to-business unit, which includes its events business, upped its revenue by 8% to £892m, while operating profits were up 4% to £226m.
Follow John Reynolds on Twitter @johnreynolds10