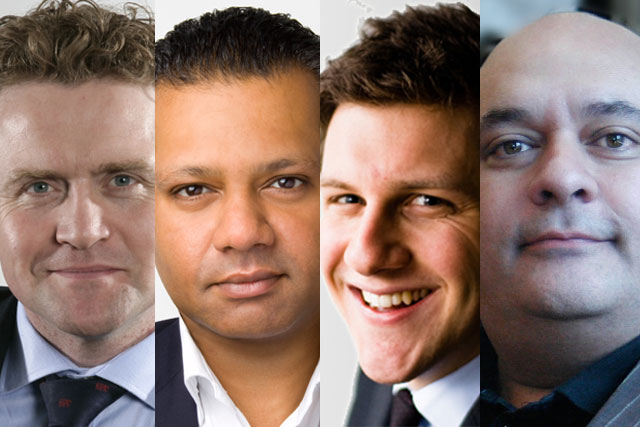 According to Ofcom, new services should roll out in about six months' time, and the whole of the UK will be able to receive 4G services "by the end of 2017 at the latest".
The 4G auction raised £2.34 billion, although the government had budgeted for it to bring in £3.5 billion.

Ofcom chief executive Ed Richards said: "This is a positive outcome for competition in the UK, which will lead to faster and more widespread mobile broadband, and substantial benefits for consumers and businesses across the country. We are confident that the UK will be among the most competitive markets in the world for 4G services."
Media Week gauge's initial reaction about what 4G could mean for the UK's media and for brands.
Steve Parker - managing director of MediaVest
"This is a positive step as users gain access to greater data transfer speeds on their mobile devices. Clearly hand held devises are playing a more dynamic role around the mobility and wider behaviour of audiences. 4G in time will only serve to enhance the growing opportunity that advertisers have to build relationships between consumers and brands via content.
"We'll see improvements to location and data targeting as more frequent users means more data to utilise in our communications. These advances mean we will be able to communicate and engage better with our audience while consumers will benefit from a more relevant dialogue with our brands.
"Faster data transfer will allow for an evolution in creative formats. Currently creative capabilities are limited as we do not want to inhibit the user experience when loading from 3G, however the hope is that 4G will allow for richer and more exciting experiences for users, and the ability for brands to incorporate more content within their marketing.
"High quality video has been restricted in much of the UK due to the lack of good 3G connections. 4G should address this problem by providing better UK coverage and faster streaming speeds when on the go. With the ability to confidently put ads next to high quality video content, investment from brands will rise, resulting in a greater breadth of content being made available to users
"It has to be mentioned that benefits may be slow to arrive. This is due to the fact that mobile networks will have to find a viable way to provide unlimited data at a reasonable cost or risk a lack of 4G data plan uptake. Further compounding this will be the initial lack of low - medium priced handsets that are compatible with the 4G network."
Matthew Howett - telecoms regulation analyst at Ovum

"Despite all the noise being made about the UK's 4G auction, what you can't hear is the sound of champagne corks popping over at the Treasury as Ofcom's 4G auction fails to raise George Osborne's optimistic expectation of £3.5bn coming in at £2.34bn.
"For the mobile operators there must be widespread relief that the amount paid is a mere fraction of the £22.5bn they were asked to cough up during the 3G licencing process. For them, the fact they didn't have to pay billions more is without doubt a positive thing.
"The costs of rolling out a network are significant. It could be argued that the relatively poor 3G coverage we have seen in the UK up until now is at least partially a result of operator's being left out of pocket after the last auction that they had very little to actually spend on building the network. Things this time should be different, especially given the ability for the 800MHz airwaves to cover large distances and penetrate buildings well.
"Three's ability to win valuable 800MHz spectrum coupled with the spectrum at 1800MHz it acquired from EE before the auction puts it in a strong position to roll out its 4G network. Many customers on Three will have had problems at one point with reception inherent of the propagation characteristics of the 2.1GHz spectrum it currently uses. Other key highlights include the commitment BT has made to rolling out its own 4G services, and O2's lack of higher value spectrum which is needed to meet growing data demands.
"Much has been made of the UK's late start in the 4G race. In our view, everyone deserves at least some of the blame, from the regulator, through to the government and the operators themselves. However Ofcom should be praised for allowing EE to launch using its existing spectrum. Despite much criticism at the time, the decision was the right one. Without it, we could very well still be arguing about how to design the auction rather than awaiting a host of additional 4G services in only a matter of months. Had it not intervened in the way it did, Britain could very well have been condemned to the slow lane for years to come."
Bobby Hui - executive planning director at G2 Joshua
"Ultimately, 4G means a further transition of control to the consumer. Another step towards the ideal of hyper-connectivity, empowering individuals further with regards to both sharing and creating content. If consumers are increasingly enabled to create and share amongst each other, there's greater possibility for media owners to be removed from conversations.

"The challenge is going to be for media owners to respond and create richer, more interactive content worthy of 4G and worthy of consumers' attention. The opportunity for collaboration is also heightened, and is an opportunity that has to be taken advantage of. If the response is too slow, consumers will no doubt waste no time in looking elsewhere."
Chris Minas - managing director and founder of mobile specialist Nimbletank
"Mobile is starting to transform the face of broadcast as we know it. The 'on-demand' model that we have become accustomed to is soon to be complimented with an 'on-the-go' and 'interact' model, enabled by more sophisticated mobile solutions.
"Recently, viewing on mobiles has become a far more holistic experience and allows users to interact with and personalise the content. With the launch of 4G, streaming broadcast on mobiles will produce even higher quality content, a more engaging experience and more immersive viewing experience, taking watching shows to another level. This will be one of the most significant changes in broadcast experience since the introduction of colour TV."
Follow @DurraniMix