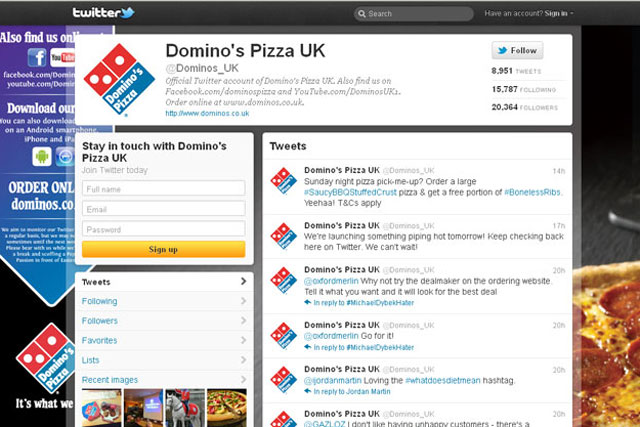 The pizza retailer is starting the auction at 9am today and it runs until 11 am today. Followers on Twitter and Facebook fans can post the message UK – #LetsDoLunch.
Once the auction closes and the price is set, consumers will be able to purchase the pizza from the Domino's website for lunch today.
The campaign by Arena Media is the first of a series, according to Domino's.
Simon Wallis, sales and marketing director at Domino's, said the campaign has been devised to "reward" its approximate 471,000 Facebook fans and its 124,000 Twitter followers.
Domino's has been very active in the social media space. Past activity includes selling pizza on Facebook, running a check-in deal and a Foursquare campaign.
It recently reported a 14.6% uplift in full-year pre-tax profits to £43.6m, driven by a 43% leap in online sales, aided by low-cost digital marketing.
It is currently reviewing its digital and direct marketing account.
The campaign is similar to the 'Lucky Counter' Twitter campaign run by Uniqlo in 2010. The Japanese retailer reduced the price of items of clothing when they were tweeted about. It ran while Uniqlo's ecommerce site was down.
Follow Sarah Shearman on Twitter @Shearmans