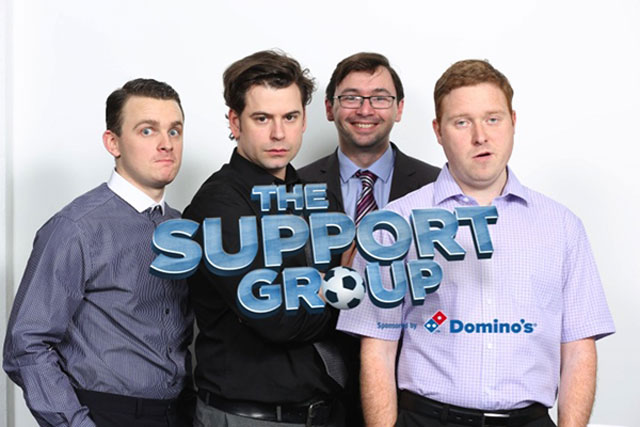 The pizza brand hopes to engage with football fans in its customer base through the 12-eposide mini series, 'The Support Group', which was created by Arena Media, and production companies Bwark and Zodiak Active.
The series, which was written by Chris Little, Jonathan M Stern and the producers, will air weekly and will run from today on Domino's YouTube channel, The Sun Online, Football365.com and Yahoo.
The script team for the online sitcom will aim to offer football fans a breakdown of the weekend's football news, as the central characters Geoff, Ronnie, Martin and Spencer exchange gossip in response to the actual stories from the weekend.
Henry Daglish, deputy managing director at Arena Media, said: "'The Support Group' represents our first foray into the world of bespoke content and hopefully the start of a new way of engaging with Domino's core audiences."
Zodiak Active has also partnered with social video specialists at Unruly to improve the sitcom's reach to football fan bloggers and fan sites in its network.
Barney Worfolk-Smith, head of creative solutions at Unruly, said the series was "good news for digital content marketing".
He said: "Engaging content, return on investment-focused distribution and a progressive agency and client team are delivering an exciting partnership that will be greater than the sum of its parts."
Simon Wallis, marketing director of Domino's, will be talking about how the pizza company has grown from 7 to 775 stores in 15 years through fast innovation and taking calculated risks at this year's Media360 event on 7 June. See more details of Media360's celebratory 10 year anniversay and industry speakers at http://www.media-360.co.uk/