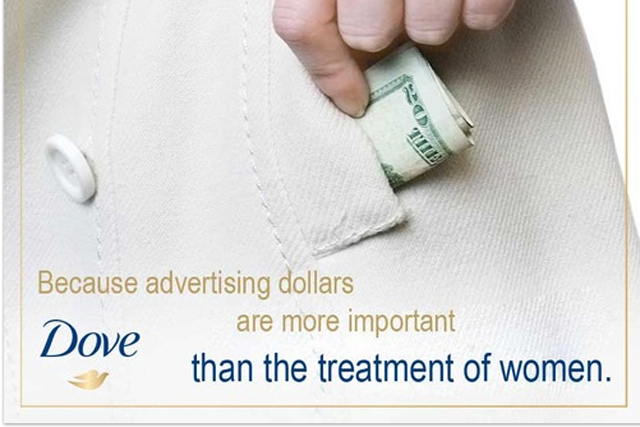 The brand has found itself at the epicentre of a campaign urging Facebook users to contact advertisers whose ads appear next to content which promotes domestic violence.
Over 16,000 tweets using the hashtag #FBRape were sent in the first 48hours of the campaign.
To date, brands including Nissan, J Street, WestHost, Candypolis, Capturing Childhood and Grow Your Own Theatre have pulled their ads from the social networking giant.
After facing a barrage of tweets and negative comments on their Facebook page, neither of which the brand has responded directly to, the brand has contacted campaigners.
In an email Dove, stated: "As Facebook advertising targets people, not pages, we cannot select which pages our advertising appears on."
However, the FMCG giant pledged: "In the future, we will be refining our targeting to reduce the chances of our ads appearing on similar pages."
Although, as the brand states, Facebook advertising is not targeted at pages but people, it remains unclear as to exactly how Unilever hopes to achieve this refinement in targeting.
According to Facebook's advertiser targeting, it is not possible to choose which content brands appear next to, as audiences are targeted by their demographic and other personal information not by the content they visit.
A spokesman for Facebook emphasised the offensive content was in breach of guidelines and has been taken down. In addition they pointed out that the vast majority of people on the social network are not viewing this type of content.
In a statement, Facebook added: "There is no place on Facebook for hate speech or content that is threatening, or incites violence, and we will not tolerate material deemed to be genuinely or directly harmful.
"We try to react quickly to remove reported language or images that violate our terms and we try to make it very easy for people to report questionable content using links located throughout the site.
"However, as you may expect in any diverse community of more than a billion people, we occasionally see people post distasteful or disturbing content, or make crude attempts at humour. While it may be vulgar and offensive, distasteful content on its own does not violate our policies.
"We do require that any such page be clearly marked – so users are aware that the content may be in poor taste. In many instances, we may also require a page administrator to display their real name on the page, or the page will be removed."