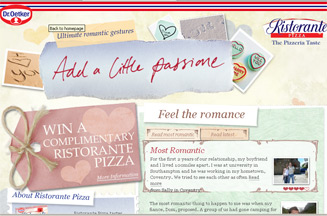 The campaign is the first following the appointment of Life Agency in July after a three-way pitch.
The 'Add a Little Passione' campaign includes a reader offer for a free Ristorante pizza running on the front page of The Independent on Sunday. The offer included a front page and internal advertisement for the promotion.
Life have also designed a microsite, 'Add a Little Passione' at www.pizzaforpassione.com. Visitors to the site are able to upload their own romantic stories as well as view and rate other peoples' stories. Those whose stories are voted most romantic will win a free Ristorante pizza.