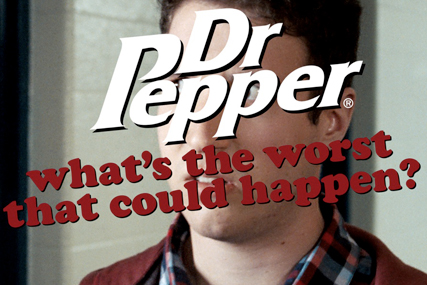 The app, found on the brand's Facebook page gives consumers the chance to win £1,000 if they allow Dr Pepper to take control of their status update.
The updates are then chosen at random from a bank of options from 'Lost my special blankie. How will I go sleepies?' and 'what's wrong with peeing in the shower?' to 'never heard of it described as "cute" before.'
The activity will run for 10 weeks as part of a continuation of the 'What's the Worst that Could Happen?' creative. In March Dr Pepper began re-running its its 'Nurse' and 'Over-friendly father' spots and also launched a ringtone giveaway across 330ml cans and 500ml bottles.
For April Fool's Day the brand launched activity on Chatroulette and played on the idea that male teens use the site to try and flirt with girls.
It showed an American styled cheerleader who would dance for the viewer. As the dance developed the cheerleader would encourage the viewer to interact through embarrassing tasks before an elderly man dressed as a cheerleader appeated.
The footage of the activity can be found on YouTube.