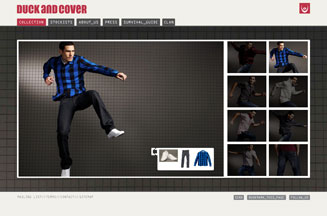 The UK label has launched an online community, a Facebook group, a YouTube channel, a blog and a new website, using digital marketing and social media agency Neoco.
The online community, called The Clan, enables Duck and Cover fans to keep in touch via 'The Survival Guide' blog and e-newsletters covering news and views on fashion, music, film and target market events. It is also a way for Duck and Cover to listen to what its customers are saying about its ranges and to act on the feedback.
The Survival Guide blog including a 'Making of' video for the latest season's Duck and Cover fashion shoot.
Duck and Cover is also planning an online advocacy programme that will help the fashion brand engage further with its customers, using online focus groups and monitoring feedback to give interested parties a voice in what direction Duck and Cover takes in its new ranges.