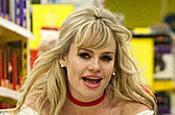 The ad, by Mother London, shows the Welsh songstress coming off stage after a sell-out gig.

With the crowd baying for an encore, Duffy jumps on a bike and cycles off, only then to return to sing the song.

According to Coca-Cola, the ad represents confident young women taking a stand against the pressures of modern life.

Coca-Cola Great Britain marketing director Cathryn Sleight said: "We're very proud of this new campaign which shows strong and confident women taking control and saying no.

"She looks fantastic in the new advertising."

The Brit Awards will screen on ITV1 between 8pm and 10pm on Wednesday evening.