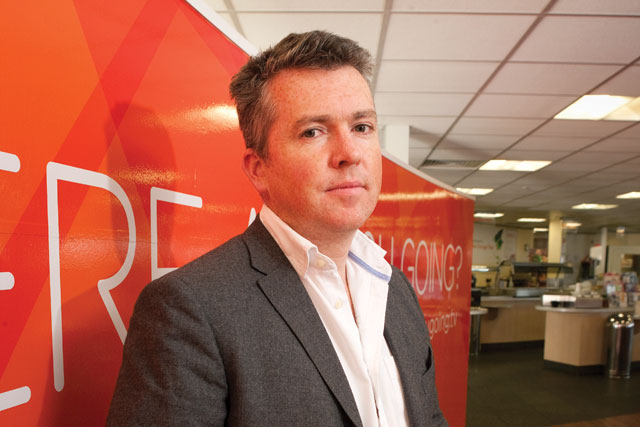 Peter Duffy is surely in for the long haul as he sets out to convince travellers across Europe that easyJet should be their airline of choice, rather than the one they pick just because its prices match its no-frills offering.
Nevertheless, the easyJet marketing director is pleased with the way his plans have taken off. He meets Campaign having just unveiled them to 200 easyJet staff, and was delighted when they burst into spontaneous applause.
Earlier, others had worked through the night to install the new branding in the reception and relaxation areas at the airline's headquarters, across the road from the departure gates at Luton Airport.
Paul Moore, the easyJet communications director, laughs about a staffer who was so gobsmacked by the transformation that he asked how the colour of all the chairs had been changed so quickly to match the new decor (it hadn't).
Duffy will certainly need to keep easyJet's staff fired-up as it plunges £50 million into a pan-European campaign that aims to transform it into the continent's preferred short-haul airline, not just for holidaymakers but in the significantly more lucrative business market.
A new TV commercial is being shot over the next two weeks as part of a multimedia campaign that will run across easyJet's key markets - the UK, France, Spain, Italy, Switzerland and Germany.
The campaign asks: "Where are you going?" It's a question that might just as easily be posed of easyJet, just 16 years old and with a marketing strategy that once consisted of little more than its telephone booking number painted on the sides of its aircraft.
The catalyst for this activity has been the end of the airline's feud with its founder and biggest investor, Sir Stelios Haji-Ioannou. He runs his own collection of companies under the easyGroup banner, and went to court to stop easyJet striking its own marketing deals and expanding beyond air travel.
A peace deal was brokered that allows easyJet greater commercial flexibility while Haji-Ioannou receives a royalty of 0.25 per cent of the airline's total revenues.
The settlement has precipitated much change. No sooner had Carolyn McCall, the former chief executive of Guardian Media Group, been appointed easyJet's boss, the airline called a pitch on its pan-European account.
The review had barely kicked off when McCall installed Duffy as the airline's first marketing director. As a former online director at Barclays, he had the customer relationship experience McCall wanted. And, as Audi's marketing chief, he had helped the marque overtake Mercedes-Benz in the UK, taking Audi to within sight of BMW.
Duffy says: "We had not reviewed the business in five years and, with a new management team and strategy in place, we thought the time was right to see what was in the marketplace."
The five-way pitch ended with easyJet's account moving from Publicis London to VCCP. "The agency is strategically minded and can complement that with exciting creativity," Duffy explains. "We're a low-cost airline that does things in different ways to other organisations and we needed an agency that could articulate that."
Presenting easyJet not simply as a seller of cheap air tickets but as an enabler - allowing people to connect and enjoy new experiences - is at the heart of the airline's new positioning. "We're not just taking on British Airways," Tracey Follows, the head of planning at VCCP, says. "Interflora and Skype are equally important competitors."
This is being manifested in the snapshots that will be the essential ingredient of the new advertising. EasyJet staff are being invited to upload images that capture classic moments from their travels to the airline's website, and customers will be urged to follow suit when the new advertising goes live.
The images will also form the basis of the TV spot. It is being shot by Elaine Constantine, a film-maker who honed her reputation with photoshoots for Vanity Fair and Vogue. Her clients have included Adidas, Burberry, H&M, Levi's and Lacoste, and she's noted for her youthful and energetic style.
According to Follows, the agency drew its inspiration for the work from the art deco travel posters of the 20s and 30s. "They evoke a time when travel was perceived as exciting and glamorous," she explains. "EasyJet is a brilliant brand, but it's too much about efficiency."
How easy it will be to inject some emotional benefit into easyJet's offering is an open question. The airline's approach is epitomised by the unglamorous address from which it operates (Hangar 89, London Luton Airport), a building that resembles a large B&Q outlet.
And there are those who wonder whether the airline's downmarket image will be perpetuated by Airline, the documentary series about the day-to-day running of easyJet created by LWT. The show finished in 2007, but the regular repeats on Dave may reinforce old prejudices.
This is clearly something easyJet could do without as the airline looks to boost its appeal to business travellers. They account for 18 per cent of its customers, and Duffy says the plan is to grow that figure significantly. Indeed, even a modest rise in demand from this sector could make a real impact on the easyJet bottom line.
Success here depends on how well the airline can convince business people to set their prejudices aside. "Once people can be persuaded to try us, they like us," Duffy says. "Why would you want to pay three or four times more for a European flight on another airline?"
Most business travellers would reply that they would first need assurances that easyJet can fly them to where they need to be at the right time, and that they won't be flown into an airport many miles from the city where their important meeting is taking place.
"What's going to convince businessmen is less advertising and more specific information about destinations, performance and reliability," Jon Tipple, the head of planning at McCann London, says.
Tipple, whose agency handles the American Airlines account, says easyJet could close the gap on other carriers by comparing its performance figures with BA, and publishing regular updates online.
The other big question is how well easyJet can insulate itself from the "Ryanair effect". The airline has had regular spats with Michael O'Leary's no-frills rival, many of which have required the intervention of the Advertising Standards Authority. But will easyJet be tarred by Ryanair's customer service mishaps? "Fly Ryanair?" one much-travelled adman remarks. "I'd rather boil my head!"
Follows believes easyJet's problem is one of perception lagging behind reality. "Our research found that people who'd travelled with easyJet recently found staff friendly and efficient," she says. "But those who flew up to five years ago didn't have the same perception."
However, experienced airline marketers warn easyJet not to let its change of direction drag it away from what it does best.
"The brilliant thing about easyJet is that it gets you from A to B without fuss," Tim Duffy, the M&C Saatchi UK group chairman who led its BA business for many years, says. "It's all about simplicity and price which, paradoxically, makes it attractive to business people. It really doesn't need to layer on all the other stuff."