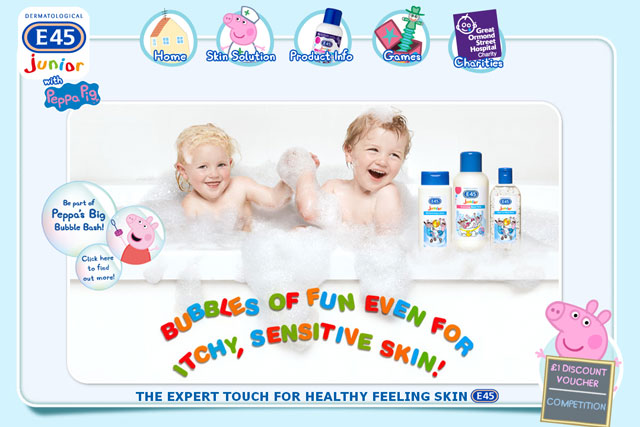 Reckitt Benckiser will donate 10p from each E45 Junior product sold over the next 18 months to the Gosh Children's Charity, with the aim to raise £100,000.
Peppa Pig has already been associated with other brands and in 2009 teamed up with Muller for the Little Stars promotion.
The junior skincare brand includes foaming bath milk, moisturising lotion and hand and body wash products. It will run a press campaign supported by Bubble Bash promotions, competitions, information booklets, activity schemes and in-store promotions.
An incentive voucher scheme will run through a joint website, www.peppapig.e45.com until the end of the year.
Additional marketing plans for the tie-up include a partnership with parenting website Netmums and interactive promotional activity within schools, leisure centres and playhouses.
Refik Oner, category marketing director, Health & Personal Care RB UK, said: "Because of the discomfort it can be difficult to get young children to moisturise their skin, when it is dry and sensitive.
"E45 Junior is a range designed to make bathtime more fun for children, and easier and effective for their parents. The link with Peppa Pig will create instant appeal amongst children with the activities designed to further enhance their fun experience with this brand.
"As part of this awareness drive we are also delighted that we have been able to partner with the Great Ormond Street Hospital to raise funds for their valuable world class work in children's health."