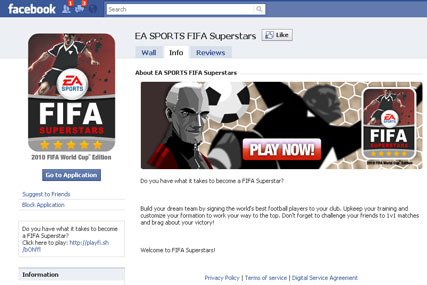 The game is free to play although buying players for your team costs £1 to £2 per pack of players.
Last month EA Sport's chief executive Peter Moore announced it was to bring the game to Facebook for the first time "to extend EA Sports experiences to a broader audience, particularly in a World Cup year and at a time when we see such an appetite for fans to connect through interactive football".
Moore said he wanted the business to leverage its football gaming knowledge to provide hundreds of millions of new fans with the opportunity to compete against their friends with the interactive game.
The World Cup game is created by social games developer Playfish, acquired by EA for $300m, climbing to as much as $400m depending on performance, last year.
Fifa Superstars will sit alongside many other games on Facebook that include Towner, Happy Island and Super Dance. It is estimated that over 200 million people play games on Facebook everyday.
Britons spent 15% of their online time in 2009 playing games and one in every four and a half minutes on social networks according to recent research from UKOM.