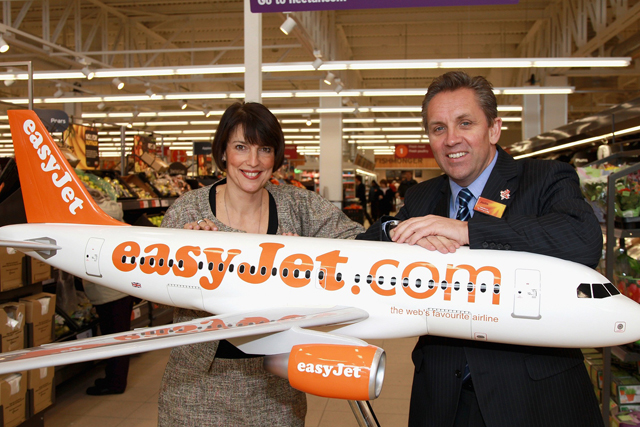 Nectar points gained through Sainsbury's, British Gas, Amazon, Homebase and others can now be exchanged for easyJet flights. Points can already be redeemed for Eurostar journeys.
Holidaymakers can exchange points for flights or use a combination of points and cash.
Sainsbury's, a Nectar founding member, will support the tie-up with an in-store and direct marketing campaign.
Justin King, chief executive of Sainsbury's said: "Our customers often ask for new ways to spend their Nectar points and flights are one of the most popular requests.
"EasyJet joining Nectar now means many families will be able to book flights in time for their summer holidays with the points they have collected through simply doing their weekly shop at Sainsbury's."
Tesco already allows its Clubcard members to spend points on British Airways flights.
Figures from Sainsbury's reveal close to one million Nectar members already have enough points to take a trip, and 300,000 flights are expected to be booked every year using Nectar points.
Carolyn McCall, chief executive of easyJet, said the deal would "allow customers to choose to get a discount on any flight, any day across the easyJet network".
She said: "This partnership is the first commercial initiative for easyJet since the new brand license agreement and demonstrates how, through partnering, we can offer even more to our customers."
Flights can be booked through Nectar from 22 March.
Sainsbury's signed a deal with new British Gas last month, to replace EDF as its Nectar energy partner and launch in-store energy centres.