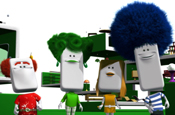 The global auction site has finalised a shortlist comprising its roster agencies in the main European markets, plus non-roster agencies.

EBay's European marketing director, Torsten Schuppe, is leading the review.

The company has asked the shortlisted agencies to show how they can support eBay on a pan-European, rather than on a local, basis.

EBay roster agencies in Europe include Albion in the UK, Euro RSCG in France and Springer & Jacoby in Germany.

Part of the review process could see eBay moving some of its advertising services in-house into newly formed "centres of excellence".

EBay is also expected to review its UK media account, which is held by PHD, this year.

Carat was handed the pre-Christmas £1.2 million media account on a short-term basis in November.

In December, eBay consolidated its marketing teams into its Zurich offices, following the announcement of a global restructure that was expected to lead to redundancies of 1 per cent of its workforce.