United Kingdom
EBLEX launches virtual steak cooking iPhone application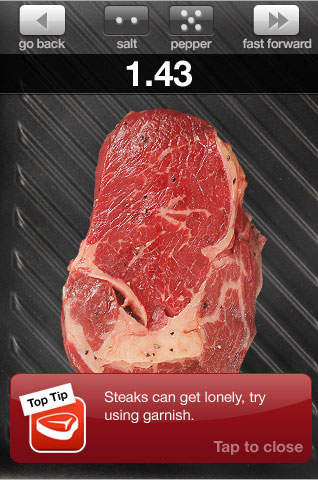 LONDON - EBLEX, the body behind the Quality Standard mark, has launched an iPhone application enabling iPhone users to cook a virtual steak.
Devised by TBWA\London and developed by Acknowledgement Ltd, the iPhone application starts by asking users to choose from different cuts of beef from rump to fillet.

Users can then cook their steak to varying degrees, from rare to well done, while the steak sizzles and smokes in the pan.
However, if they take their eye off their iPhone, the steak can be entirely incinerated.

While cooking users can flip the steak by tilting the iPhone as well as adding seasoning.

The iPhone application, which forms part of EBLEX's Tough Standards, Tender Results' campaign also gives tips and instructions for cooking the perfect steak.