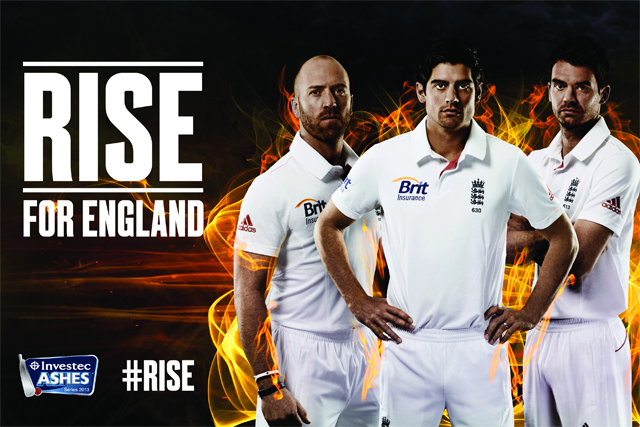 The series, sponsored by financial services company Investec, begins at Trent Bridge in Nottingham on 10 July. To drive greater engagement, the ECB is calling on sports fans to "#RISE for England".
Fans tweeting messages of support using the hashtag #RISE or posting on the ECB's Ashes microsite, will be included on a 'Wall Of Support' in the England team room before the start of each of the Ashes Tests.
Outdoor ads featuring England players such as team captain Alistair Cook and fast bowler Jimmy Anderson will run in the cities where the matches take place, encouraging fans to use the hashtag #RISE.
David Collier, chief executive of the ECB, said: "The Ashes captures the public's imagination like no other sporting contest. We want the entire nation to rise for the occasion, as I'm sure the team will.
"The #RISE campaign gives fans the chance to interact with and show their support for the team during the Investec Ashes Series, and we hope that the summer's action inspires more people to play, attend and follow our great game."