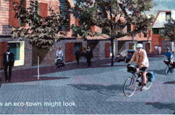 The ad claimed that the 5,000-home Curborough eco-town near Lichfield in Staffordshire would be built on a brownfield site.

However, the Department for Communities and Local Government has now admitted that most of the development would use greenfield land.

The ASA upheld the complaint but dismissed another about claims that half of the development would be affordable housing.

Developers pulled out of the Curborough eco-town in July.