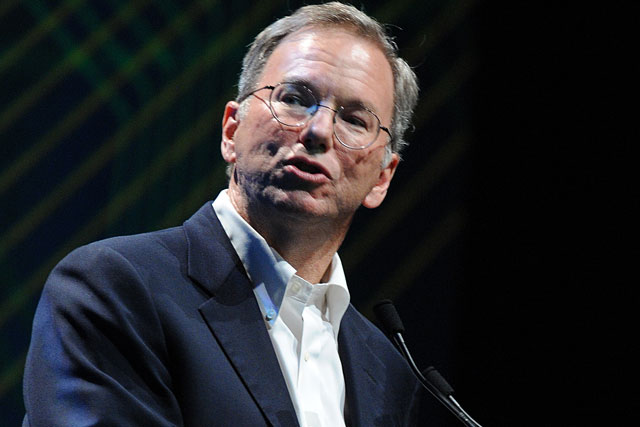 Speaking as the first person from outside the industry to give the keynote James MacTaggart lecture at the Edinburgh International Television Festival, Schmidt confirmed Google's plans to launch Google TV in Europe early next year, with the UK market "among the top priorities".
Google TV launched in the US in May 2010 as a TV service built into TVs, Blu-Ray players or set-top boxes which enables viewers to search through TV channels, websites, apps, shows and films.
His underlying message was one of partnership. He said: "I know some of you have suspicions about Google. Some of you blame us for the havoc wreaked on your business by the Internet. Some accuse us of being irresponsible, uncaring, and worse.
"Today I'll aim to set the record straight on those points, and demonstrate why we can and should be optimistic about television's future, if we work together."
The chairman defended Google's relationship with content producers, citing the $6bn You Tube "shared" with content producers last year, and compared some media owners perception of Google with how newspapers once viewed radio in the 1920s and 1930s, and television in the 1950s.
Schmidt said television is "clearly winning the battle for attention", noting in 2010 UK adults spent as much time watching TV in four days as they did using the web in a month, but he warned "you ignore the internet at your peril".
He said: "The internet is fundamental to the future of television for one simple reason: because it's what people want."
In a hall filled with hundreds of executives from across the TV industry, including TV broadcasters, pay TV platforms and independent producers, Schmidt said he did not expect linear TV to come to an abrupt end despite convergence.
"There will always be a cultural pull, for some shows, on some occasions, to watch in real-time," he said. "Linear viewing remains remarkably robust - in 2010, over 90% of broadcast TV viewing remained 'live'. But I sense the default mode of viewing will inexorably shift."
He insisted that Google is not trying to compete with broadcasters and content creators, but rather "support the content industry by providing an open platform for the next generation of TV to evolve, the same way Android is an open platform for the next generation of mobile".
Schmidt continued: "Just as smartphones sparked a whole new era of innovation for the Internet, we hope Google TV can help do the same for Television, creating more value for all. We expect Google TV to launch in Europe early next year, and of course the UK will be among the top priorities."
Google is often criticised for making money off the back of other people's content and in an earlier session today Channel 4 chief executive David Abraham urged fellow broadcasters to "defend" their programming and ask for the data on who is watching their shows.
Abraham said: "If all viewing is going to be connected and you can't tell [advertisers] who they are, we're not going to have a business."
Schmidt answered criticism about Google's lack of investment in TV content with a well worn, and increasingly spurious claim that "Google is a technology company". He added: "We provide platforms for people to engage with content and, through automated software, we show ads next to content that owners have chosen to put up.
"But we have neither the ambition nor the know-how to actually produce content on a large scale. Trust me, if you gave people at Google free rein to produce TV you'd end up with a lot of bad sci-fi and other stuff."
Schmidt said Google is "helping to fund content" and in addition to sharing more than $6bn with publishing partners worldwide, YouTube's relationship with Channel 4 and Channel 5 has provided growing audiences and online revenues, which enhance rather than cannibalise existing viewers.
Two years ago, BSkyB chairman and News Corp's international chief executive James Murdoch used his MacTaggart address to described himself as the "crazy relative everyone is embarrassed by". Proving he'd done his research, Schmidt asked, "I wonder what he'd call himself now?" to howls of laughter.
Google's chairman went on to discuss what he believes are fundamental flaws in the UK's education system. He said for the UK's creative businesses to thrive requires people who understand all facets of it integrated from the very beginning.
"Take a lead from the Victorians, and ignore Lord Sugar," he said, "Bring engineers into your company at all levels, including the top."
The UK has stopped "nurturing its polymaths", he said, and needs to bring art and science back together, like the "glory days" of the Victorian era when the same people who wrote poetry built bridges.
He added: "I was flabbergasted to learn that today computer science isn't even taught as standard in UK schools. Your IT curriculum focuses on teaching how to use software, but gives no insight into how it's made. That is just throwing away your great computing heritage."