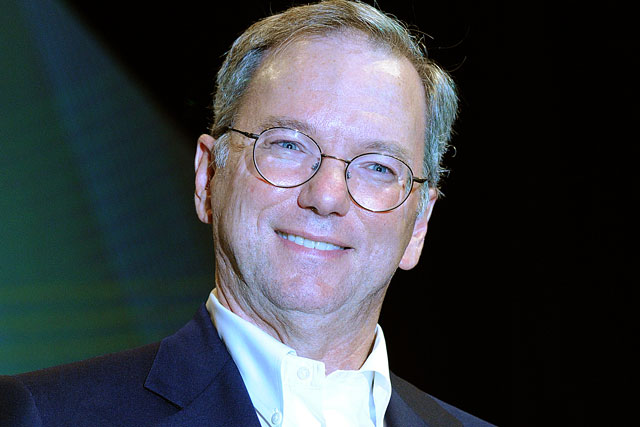 Presenting the MacTaggart lecture at the Edinburgh International Television Festival, the Google leader warned against the "micro-regulation around TV advertising" in the country.
He said: "Your advertising industry is world leading. It is the lifeblood of the broadcasting industry, except the BBC, and yet doesn't get championed by policy makers. In fact, the opposite.

"Take the investigation into TV ad trading. In today's tough climate, with ever more competition for each marketing dollar, it seems the right time to make things easier for ad-funded broadcasters by, for example, removing market-distorting constraints like the CRR rules that so straitjacket ITV."

Ofcom announced it was reviewing TV advertising in March, following a report from the House of Lords that suggested CRR, the rules governing the way ITV sells its airtime, should be scrapped.

A consultation on the TV ad sales market launched in June and Ofcom has been holding meetings with broadcasters and agencies. While Ofcom could still refer the market to the Competition Commission, general sentiment in the industry is believed to be against it.

In May last year, the Competition Commission ruled that CRR was still needed to protect advertisers but hinted there should be a review of the entire commercial TV market.
Schmidt told more than 900 media and broadcasting executives tonight (26 August) to "keep a close eye on your regulators", and asked whether past successes achieved by the creative and broadcasting industries have happened because - or in spite of - broadcasting regulation?
He warned that in the online world, TV is "no longer purely a domestic affair", and that playing to this wider audience needs a new mindset, particularly when it comes to laws and regulation.

"Overall, British television is subject to far more stringent regulation than its counterpart in the US," he said. "This means less flexibility and scope for UK companies seeking to compete on the global stage. Even though much of Europe is worse off still, that's irrelevant because your main TV competition, through shared language and similarities in culture, is from across the Atlantic."
Underlining the importance he places on a more relaxed approach to regulation, Schmidt had words that are sure to reach politicians battling with a stagnant economy. He said: "It's no exaggeration to say decisions made in the next year will determine the long-term health of your broadcasting and content industries for decades to come.
"If economic growth is the priority of the Government, your regulators need to be cautious when making new laws in this space, or risk stifling the growth of your content businesses."
He went on to call for content businesses to be given more freedom and legal framework to behave more like internet companies.

"The starting point for every new piece of legislation should not be 'how do we regulate this' but 'how do we protect the space needed for innovation'," he said. "Again, listen to the entrepreneurs, not the lawyers, if you want innovation to thrive."

Recognising his suggestions run counter to the public mood following the recent rioting, he maintained there is nothing more stifling to innovation than having to jump through endless hoops.

"Just imagine if Facebook had to endure regulation like you face in TV. There'd have to be separate Facebooks for each region. Staff would need to be spread out - Salford would be an engineering hub. There'd be rulings to enforce diversity of Wall Posts, with quotas for religion and education. And you could forget about Poking before the watershed. I could go on, but I think you get the point."
Schmidt became the first person from outside the traditional broadcasting industry to present the MacTaggart lecture, which is now in its 36th year. The wider message from Google's chairman was one of the benefits of partnerships and the fundamental role the internet will play on the future of TV.