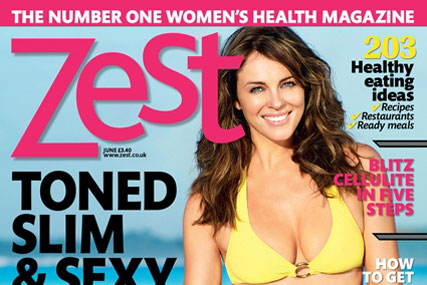 It will also exclusively feature Hurley, whom Zest hails as "the ultimate bikini icon for real women", as the cover model to support the magazine's focus on this summer's 'bikini season'.
In a double-first for Zest magazine, which has never before had a celebrity guest editor, Hurley also appears on the cover; one of only a handful of celebrities to do so in the magazine's 15 year history
Features that include Hurley's input focus on the model's advice on flattering summer clothing and an exclusive two-week healthy diet.
Mandie Gower, editor of Zest, said: "Very few celebrities have ever made the cover of Zest, but Elizabeth Hurley truly reflects the Zest lifestyle. She shares our philosophy that healthy living has never been more fashionable, and understands that for modern women, a healthy, happy life is the Holy Grail."
Gower added: "With her organic farm, her long-term work as a breast cancer ambassador, her commitment to healthy eating – not to mention those amazing curves – we couldn't think of a more inspiring role model for bikini season."
Zest's average circulation in the six-month period to the end of 2009 was 93,130 copies, down 3.7% period on period and 4.7% year on year.
The June issue of Zest is on sale now.