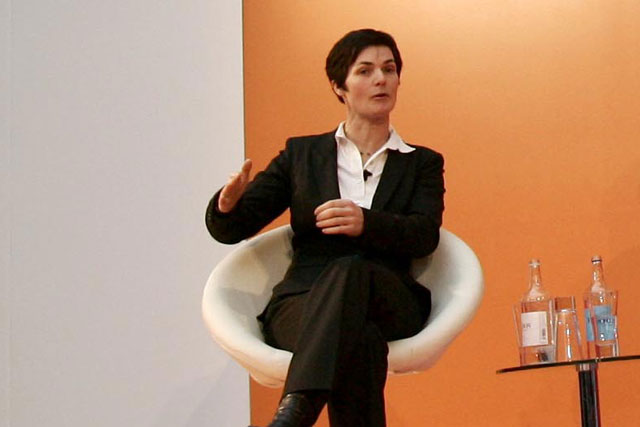 Peter Haden, partner, McKinsey, opened by describing emerging markets as "the biggest economic event in history", bigger than the internet or World War Two. But, he said, the challenge for Western brands was to change their capability to take advantage of it.
Sir Martin Sorrell, chief executive of WPP, kept to the international theme, by focusing on how Britain can stay competitive and passing on his learnings from his wide-ranging business travels and his experience of expanding WPP around the world.
However, the conference was given a sustainability twist by Dame Ellen MacArthur, who told the conference she gave up sailing around the world to sell a vision of a "circular economy" when she "realised there were 118 years of coal left, which is the same time since my coal miner grandfather was born – it's very little time".
She is aiming her message at the next generation of Britons through schools-based initiatives, while actively seeking companies to work with to her eponymous foundation.
The "circular economy" concept seeks to go beyond making existing manufacturing processes more efficient and, instead, reimagine business models to make products recyclable. MacArthur used the example of a CEO who told her he was working to make his company's carpet tiles fully recyclable so he could lease them to consumers by 2020.
Against the context of moribund Western European markets and Sorrell and Haden's focus on finding growth in the new consumer classes of Asia and Latin America, MacArthur observed that a McKinsey report for her foundation showed the "circular economy" was a $630bn (£394bn) opportunity.
The concept gave an extra dimension to the concluding panel session featuring all three speakers, with a discussion of the rise of leasing rather than owning, and a contrast between MacArthur's blue-sky thinking about business transformation, and the frontline reality Sorrell deals with.
Brands cited by MacArthur as making progress with a leasing business model were Michelin, Caterpillar, Renault (for electric car batteries), Ricoh and O2 (which has a relatively cheap tariff for the iPhone where it owns the phone, not the consumer, she said). Sorrell also threw out the example of accommodation website Airbnb.
After MacArthur claimed that one manufacturing CEO, who she did not name, had told her his current business model "was bankrupt", Sorrell responded he would love to know which company it was.
He added: "There's a stasis. This is the problem for us in the marketing community. We've lost influence and the way out is not by cutting costs. There's a finite limit to what you can do in terms of cutting costs. Far be it from me, an ex-CFO, to say this. Inside organisations, the balance of power between marketing and finance and procurement has shifted irreversibly for the minute, in favour of finance and procurement."
Follow @DanFareyJones