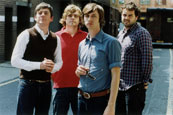 The beleaguered record label is set to invest in enhancing its digital services to push fresh talent and increase income from its roster of existing artists who include Kylie Minogue and Athlete.
Plans are at an early stage, but EMI is believed to be developing a series of branded social networking sites to provide consumers with fresh platforms for interacting with artists across its labels, which include Angel, Addictive, Parlophone and Relentless.
'EMI has long been a pioneer in the digital space,' said a company spokeswoman. 'We will unveil more of our digital strategy as it develops.'
The decision is intended to allow EMI to replicate the success enjoyed by stars such as Arctic Monkeys and Lily Allen on MySpace and Bebo.
EMI will back the social networking sites with greater online advertising spend aimed at growing the company's share of digital downloads, which now account for more than 90% of all singles sold in the UK.
The digital strategy review follows EMI's acquisition by private equity group Terra Firma for £2.4bn last year. Terra Firma chief executive Guy Hands plans to implement cost savings of £200m a year and cut up to 2000 jobs at the company.
'Digital technology has moved power into the hands of the consumer,' he told staff and artists recently. 'We need to develop models that allow us to get inside their minds.'