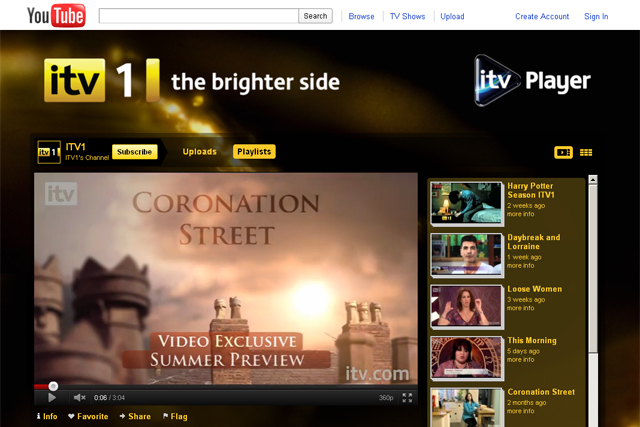 The internet has revolutionised the way we view and interact with content, offering unique experiences and engagement.
This provides an exciting but complex prospect for marketers.
Earlier this year, Specific Media partnered with survey specialists Toluna to study consumer attitudes toward the consumption of online video.
With 35.5m viewers watching 17 hours of video a month, we knew that online usage was high - but what was driving this?
The study asked 1,000 UK consumers about their viewings habits, targeting individuals who had viewed online video content in the last month.
Of those questioned, 60% were male, and 60% were under 45 years of age. Forty six percent of respondents held full-time jobs, and 13% worked part-time.
First, we looked at what devices were being used to view content.
Laptops were top, with 68% using them to view online video. This was followed by desktop computers at 52%, and mobile phones at 17%.
Tablets were a distant fourth on 6%, but the market here is still young and this number may rise rapidly if tablet sales continue to outpace those of netbooks and PCs.
It is interesting that this figure of 6% matches exactly the UK's current tablet market according to a recent study by ShopZilla, suggesting that nearly all tablet owners use the device to watch online video.
The survey also found the market potentially growing to 20% within the coming year.
What devices have you watched TV or video content online on in the past month?
Source: Specific Media
The majority of viewing takes place at home, although 13% of respondents say they view online video at work - presumably during their lunch break.
Interestingly, 13% also say they view online video during their commute, which may reflect how the proliferation of wireless internet is changing our consumer habits to be increasingly digital.
Thinking about both weekdays and weekends, when have you watched TV or video content online in the past month?
Source: Specific Media
What is striking is how closely the daily viewing pattern for online video follows that of television.
This raises the question of online video's relationship to more traditional viewing habits: is it a supplement to television, or a substitute?
To investigate this, we looked at the category of content viewed.
Which of the following types of TV or video content have you watched online in the past month?


Source: Specific Media
Fifty six percent of respondents said that they used online video to watch full length television episodes.
Catch-up online television, spearheaded by the BBC's iPlayer, has become hugely popular for individuals looking for short bursts of entertainment.
It has also become a mode of discovery as viewers seek new, on-demand content relevant to them - we will later show how this is now a key driver of online video.
Viewing patterns both for television episodes and other online video content therefore quickly build a profile of interests, allowing marketers to identify the right audiences for their messages.
This surge of viewing full programme episodes online supports the idea that online video is more than just something that sits alongside the traditional television schedule.
Viewers are looking for their own content that they can watch at a time convenient to them.
As audiences switch from television to laptops, we can expect viewing of online video in general to increase as they become acclimatised to the format.
With new viewing methods come new viewing habits. Online video consumption has its own unique properties, and people react accordingly.
The key observation is that viewers are much more active when viewing online video content as opposed to traditional, more passive media.
It is interesting to note that viewers seek out mainstream, quality output far more than user-generated content (UGC).
While parts of the video world may be preoccupied with virals, viewers are often looking for professionally produced material, with 61% 'happy' to watch adverts in exchange for free content.
Thinking about watching TV or video content online and normal tv, would you describe your viewing as "active" or "passive"?
Source: Specific Media

Sixty two percent of respondents describe their online viewing as 'active', whereas only 35% say the same of television.
This is driven not only by the viewing environment of online video (very much a 'lean forward' experience) but also the unique characteristics of video.
Given a range of viewing characteristics relating to both traditional TV and online video, the ability to choose content, interact with content and fit content around their lifestyle were the over indexing characteristics for online video.
Forty four percent of respondents said that the main driver for online viewing was that they wanted entertainment, and 42% have said they actively search and choose what content they watch.
Viewing satisfaction is generally high, with 70% agreeing that there is good content available.
The 'lean-forward' experience is involving and participatory, encouraging discussion of content, seeking of information, and sharing.
This more active consumption means that online video creates a unique platform for marketers to engage consumers, who can often take action immediately.
Which of the following have you done when watching TV or video content online in the past month?
Source: Specific Media

Online viewing also provided many of the positives offered by television, but shared fewer of the negatives.
Fifty nine percent of respondents said that they felt 'in control' of online video advertising as opposed to 41% when referring to television, and involvement and relevance were on a par across both platforms.
What was different was the respondents' interaction with adverts. The experience provided when watching online video means that there is less opportunity for the viewers to 'move away' when an advert appears.
A key consequence for marketers is that a more engaged, active and involved consumer means that recall rates are high: 56% of respondents remember the adverts they have seen, with pre-roll proving the most effective format at 55%.
Can you recall seeing advertising when watching TV or video content online in the past month?
Source: Specific Media

It is clear that watching online video is now a mainstream activity. It revolves around the personal, with high levels of viewer involvement, and provides a 'lean-forward', engaging, participatory experience.
This level of involvement creates new opportunities for marketers to reach their audience with relevant, compelling content, driving discussion and action.
When this active experience is combined with an understanding of specific preferences, marketers can expect their audience to be all eyes.
Chris Worrell, European research manager, Specific Media