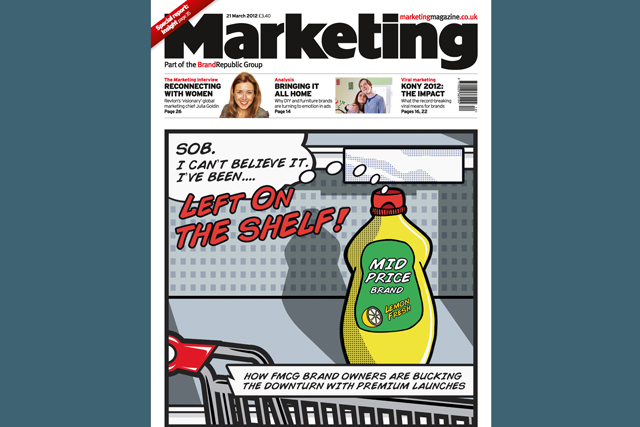 The feature, published on 21 March, details how the rise of the 'conflicted' consumer is having a particular impact on FMCG brands, with those in the mid-market finding themselves squeezed from both the premium and value ends.
It quotes senior marketers from Procter & Gamble, Reckitt Benckiser and Kimberly-Clark discussing their downturn strategies.
Engine executive creative director Steve Aldridge, who led the cover creation team, said: 'It's tough in the middle. During the downturn, consumers have been putting economy brands in their shopping trolleys, as their wallets have got thinner.
'Yet, at the same time, they've been treating themselves by buying premium brands. This has left mid-price brands feeling unloved.
'We decided to illustrate their predicament by comparing them to those other broken-hearted icons, Roy Lichtenstein's pop art blondes. Mid-priced brands have been over-looked in favour of the "cheap date" brand next door, or those glamorous brands who set our hearts racing in the supermarket aisle.'
The Engine cover team comprised Aldridge together with Richard Donovan, senior art director at PAA and the agency's senior copywriter Jon Leney.
Click to enlarge