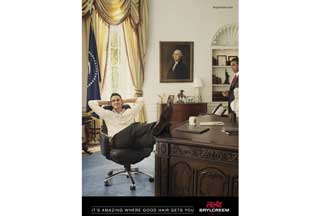 The campaign, by WCRS, has the strapline 'It's Amazing Where Good Hair Gets You'. It shows Pietersen making himself at home in the Oval Office.
The ads were shot using the set of American TV drama The West Wing, in LA.
The campaign will run for 18 weeks from 1 December in titles including Nuts, Shortlist and FHM.
Jonathan Bull, Brylcreem marketing manager, said 'Brylcreem is about giving men confidence and making then feel like they can do anything.'
Pietersen was unveiled as 'the new face of Brylcreem' in September. The news coincided with the brand's sale to Unilever.
Dave Lewis, UK chairman at Unilever, said the company sees great opportunity in the men's grooming category and will work with Sara Lee to develop the Brylcreem range.