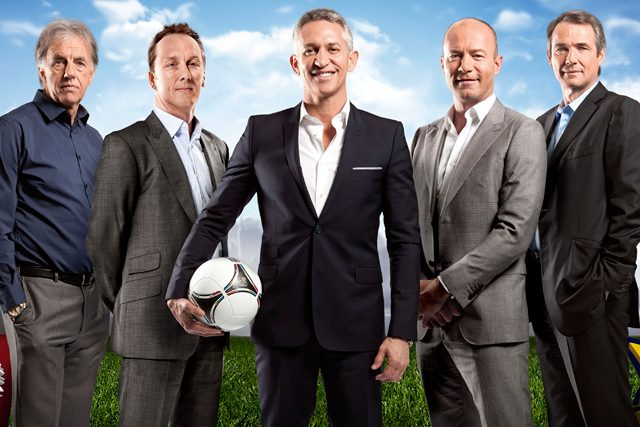 The Uefa Euro 2012 tournament has delivered consistently high audiences so far and last night's audience peak across BBC One and BBC One HD accounted for a whopping 77.4% share of the TV watching audience.

The previous ratings high during this tournament was achieved by ITV's coverage of England's victory over Ukraine, which got 18.5 million viewers.

Last night's audience was higher than the 19.5 million viewers who watched England's defeat by Germany in the 2010 World Cup but lower than the 24.7 million who watched the defeat against Portugal in Euro 2004.

Over the course of the BBC's coverage between 7pm and 10.45pm BBC One had an average audience of 17.37 million viewers across its standard and high definition channels, a 62.3% share.

The coverage of the actual game from 7.45pm until Italy's 4-2 victory on penalties just before 10.30 had an average audience of 20.24 million viewers.

On ITV1 and ITV1 HD 'A Touch of Frost' got an average audience of 1.97 million viewers between 8pm and 10pm, a 6.5% share. An additional 151,400 watched 'A Touch of Frost' on ITV1 +1.

On Channel 5 and Channel 5 HD 'Big Brother' had an audience of 752,300 viewers between 9pm and 10pm, a 2.4% share. An additional 96,800 watched the show on Channel 5 +1.