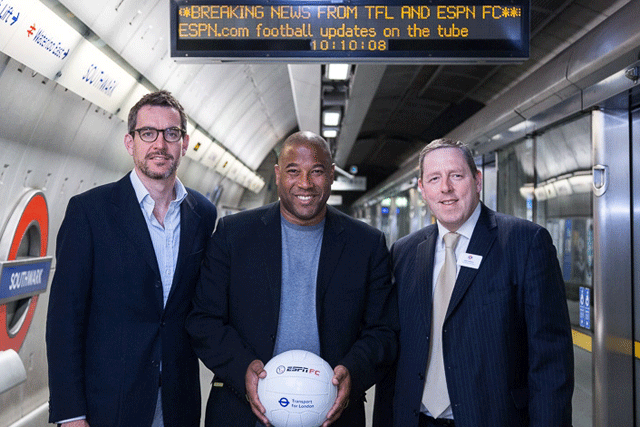 ESPN FC and TfL will deliver news, results and score updates from Brazil to commuters via overhead platform Dot Matrix Indicators (DMIs), and on 400 Electronic Service Update Boards (ESUBs) located at the entrances of London Underground stations.
The DMI updates will be displayed at more than 140 stations including the entire Central line, Northern line, Bakerloo line and Jubilee line.
The Underground service will begin with the tournament's first game this Thursday (12 June) with live updates from hosts Brazil as they play Croatia in Sao Paolo.
The updates will run during the games played in the afternoon and late evening and will be recapped from overnight each morning.
The Underground service will be welcomed following the disappointing news that Transport for London is unable to keep the tube open for an extra hour for late World Cup games after failing to be organised in time. It means football fans watching England's first game against Italy at 11pm on Saturday face a night bus home.
ESPN FC ambassador John Barnes, who lived in London from the age of 12, and played for England in two World Cups, said: "There are often debates about the use of technology in football, but I think everyone will agree this is a good one."
The partnership will help secure income for reinvestment in London's transport network as part of a wider commercial strategy that is currently forecast to generate £3.5bn over the coming years.
"It follows announcements earlier this year to bring 'click and collect' services from major retailers as well as the introduction of pop-up shops to the London Underground network.
The collaboration follows the recent relaunch of ESPNFC.com and the ESPN FC App. The site has undergone a comprehensive redesign making it fully responsive across all devices – mobile, tablet, desktop, laptop and other devices – to bring fans unrivalled coverage of football in the UK and around the world.
As part of the partnership, ESPN FC will run an advertising campaign on the home page and journey planner section of the TfL.gov.uk website, as well as experiential activity involving football freestylers at Stratford, Charing Cross and Tottenham Court Road stations later this week.
Alan Fagan, group director at ESPN EMEA, said: "ESPN FC is dedicated to going the extra mile to keep fans updated wherever they are, so we are delighted to reach this innovative agreement with TfL.
"Bringing football scores and news to the London Underground's passenger information services is an industry first, and reflects the kind of creative, fan focused approach we have to covering sport.
"This initiative together with the coverage on our sites means that fans in London won't need to miss a thing"