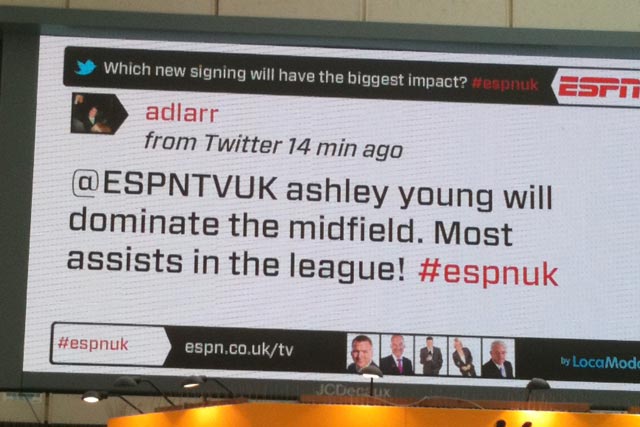 ESPN claims the outdoor campaign will be the first UK campaign to integrate live, real-time content and debate, by featuring comments from ESPN football presenters Ray Stubbs and Kevin Keegan while they are on-air.
In the outdoor ads, Stubbs and Keegan will ask questions or raise subjects for debate, such as "Which new signing will have the biggest impact?", across the weekend. Some of these topics will be discussed on air and passers-by will be encouraged to respond on Twitter, using the hashtag #espnuk.
Live scores from football news site ESPNsoccernet.com will also be included in the digital outdoor feeds, alongside information about ESPN's live football matches and Twitter responses from the public.
The campaign, negotiated by Arena Media and Posterscope, will use a range of digital outdoor sites across the UK, including JCDecaux's digital six-sheets and Transvision screens in rail stations, and CBS Outdoor's screens on the London Underground.
Mike McKibbin, group marketing director, ESPN Europe, the Middle East and Africa, said: "Sports fans aren't passive viewers. We want to connect with fans, on whatever screens they use, at any time.
"Our new digital outdoor campaign aims to actively engage fans and continue our dialogue with them from TV screen, mobile device and online, to wherever they are as the sporting weekend unfolds."
The outdoor activity is part of ESPN's wider new season campaign, 'miss nothing', which incorporates new TV and mobile ads, made by Wieden + Kennedy, and aims to highlight the range and value of ESPN's sporting content across multiple devices.
Two 60-second ads called "The Gift" focus on ESPN's live football coverage, while a third, called "Explode". looks at the lives of rugby fans. A fourth, entitled "Jumper", looks at the lives of football fans.
"The Gift" ads launched at the end of July, to recognise and celebrate sport fans' sixth sense or "gift" – their ability to read a game, see things before they happen and anticipate sporting action.
McKibbin said the activity aimed to demonstrate ESPN's understanding of "fans, their passion and insight".
Earlier this month, ESPN struck a major sponsorship deal with Bet365 to sponsor its free mobile app, ESPN Goals, which allows consumers access to instant video content from Barclays Premier League matches.