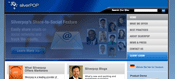 EEF purchased an undisclosed amount of common stock directly from the privately-held company's shareholders.

EEF has a record of success with internet ventures, and was established by Samwer brothers Marc, Alexander and Oliver. Investments in the company's portfolio include the social networking sites Facebook and LinkedIn.

"We believe that Silverpop's high-ROI solutions, experienced management team and healthy financials uniquely position the company to thrive in even the toughest economies," said Oliver Samwer.
Will Schnabel, Silverpop's vice-president of international markets, said that he was 'very excited' to receive such recognition. "Especially at this time, investments are really hard to come by, and this is proof of the value we're providing," he said.

Silverpop currently has over 325 employees worldwide. It received $15m in funding from global investment and technology development firm D.E. Shaw in March this year. It is ramping up its international expansion programme, and existing clients include Siemens, British Sky Broadcasting and Macmillan Publishers.