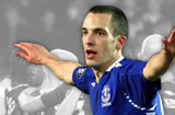 Everton has not yet secured planning permission for the new stadium but club Deputy CEO Robert Elstone said the club is hoping for a positive outcome next month. The club, which has engaged AEG to head up its sponsorship search, has targeted prospective brands with a direct mail campaign. The club has sent a DVD to company CEOs to introduce the property with an invitation to meet club officials for further discussions.
Elstone said: 'We are known as the people's club and so we are trying to live up to that. We're looking for a brand that fits with the consumers, who are typically 18-35 year old males.' Elstone said the club is looking to secure a 15-year deal and that the brand could be the same company that sponsors the club's shirt as is the case with Bolton and Reebok, and Arsenal and Emirates.
Elstone said the club has valued its naming rights sponsorship at between £4m-£ 4.5m a year and believes the club will be in a position to announce a partner by the end of the year.